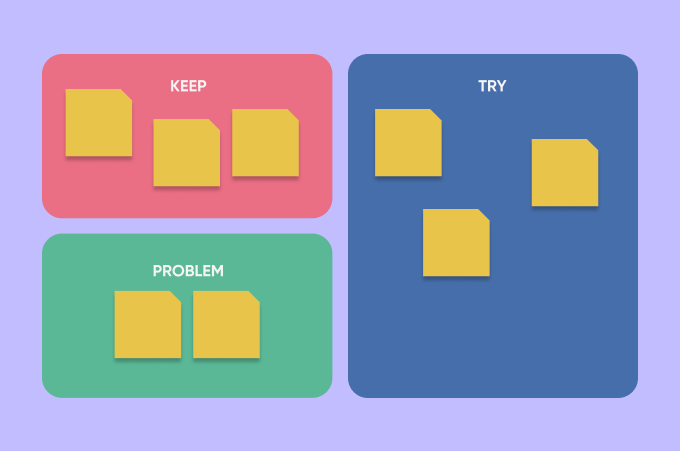 You would never start a project without an official kick-off. Conversely, you should never finish a project without conducting a retrospective. Like bookends, these two meetings work together to ensure that your team is prepared to produce their best work.
Starting every new sprint with a kick-off meeting ensures that your team is on the same page from the get-go. Timelines and budgets are made clear as well as who will be working on what. That way, no one is walking into a project blindly. It's also possible to make clarifications and catch any mistakes before the project is even started. Most companies, from dev teams to ad agencies start every new project this way.
But, for some reason, we often overlook retrospectives (or 'retros') despite the important analytic tool they are. The kick-off is necessary to start a project with as much knowledge as possible. Then, retrospective helps you gain new knowledge from your most recent project or sprint. Your team will discuss questions similar to "What went well?" "What could have gone better?" Then, they will work together to solve these questions to improve the next project and streamline their workflow. Every finished project is an opportunity to learn a whole host of things you may otherwise sweep under the rug.
Fortunately, Cacoo offers a series of guides on conducting retrospectives and includes templates you can use with your team.
Many retrospective methods share similarities that you'll see. We'll provide the building blocks all good retrospectives share and then share our six favorite retrospective models. Conducting a retrospective shouldn't add more than an hour to your process. That one hour could save you a lot of time of money as you continue through iterations, sprints, and projects.
Planning
Whenever you conduct a retrospective of any type, planning is always essential. You have to give your team time to think about the project they just completed analytically.
If you put people on the spot, you're unlikely to have an illuminating conversation — people can't usually recall every important project detail from memory alone. And without time to think through causes and effects, team members are more likely to start blaming one another for problems to blow off steam rather than think through issues logically and looking for solutions.
With proper planning time, they can review the entire process and take detailed notes. Make sure everyone knows to come to the meeting with at least one item for each of the topics you're going to cover (depending on which method you choose to follow), preferably written down.
Open environment
It is also necessary to create an open and respectful environment for your team. It doesn't matter if the meeting is in a conference room in person or online; everyone needs to feel safe to share the insights that they've spent so much time compiling.
The work to do this starts long before you ever sit down in the room (or open your video chat.) These types of meetings require mutual respect between all of your team members and a desire to find solutions rather than blame.
A great way to build trust is to set and follow through with ground rules. This might include rules like focusing on processes and workflows and discouraging calling out specific teammates. This should stop emotions from rising and prevent any particular team member from feeling singled out or bullied.
Retrospective voting
After discussing the project (following whichever retrospective model you choose), there's usually a round of retrospective voting — often dot voting — to narrow down your list of suggestions to a few that you can reasonably use to improve your process.
Usually when dot voting, each person has a maximum number of votes per category. They use those votes however they wish, either allotting one vote for each suggestion they like or giving all votes to one option that they find to be extremely important. You can either conduct this vote publicly or blindly if you're worried about hurting someone's feelings.
When the voting has concluded, you should have one or more obvious winners for what deserves to have your team's focus for your next iteration. It's up to you to decide how many of these options your team can take under their belt at once. Maybe there's one big issue that will take up your team's entire focus to fix, or maybe there are five small issues that you can address all at once.
Just make sure you don't bite off more than you can chew. Especially if this is your first time running a retrospective.
Accountability
Once you've completed your retrospective, it's just as important that you follow through on the ideas you generated as a team; otherwise, you've just wasted your team's time.
Create accountability by assigning the solutions to team members directly. Tasks can involve anything from research and follow-up to making sure you implement a new step in the next iteration. It's usually best to assign a task to someone who has some specialty experience relevant to the solution.
It might also help to add these new assignments as specific tasks within your task management system (like Nulab's own Backlog). That way, your team can see it, reference it, and track its progress and improvement.
Agile retrospectives
The Agile methodology is increasingly popular with teams. Running retros according to Agile models will allow your team to fix problems or bottlenecks as they arise. That way you don't have to wait until the end of each project to figure out how to imrpove.
Agile retrospectives, as opposed to waterfall retrospectives, allow you and your team to run these retros after each sprint. You can learn while doing instead of waiting to finish an entire project or deliverable and then run the retro. The ability to insert this task and change what you're doing based on your findings is what will render your team "agile."
Each time you're able to run a retrospective, you make your next sprint or project that much more efficient by adapting the whole team to the steps that you now know are going to work better or cheaper or faster to get the project done and deliver a higher-quality product to the client.
Cacoo's retrospective templates
Here are a few of our favorite retrospectives, including a more detailed step-by-step process of how to run each one:
Final thoughts
While there are many options for the type of retrospective that will best help your team, there's no question that conducting one will make your next iteration better.
To start working retrospectives into your projects or sprints, choose a method, and get your team into a meeting. Feel free to try a different type each time until you find the one that best suits your needs.
To help conduct these meetings, our free diagramming tool Cacoo offers a range of templates to get you started. There's no easier way to start integrating the perfect retrospective.
Collaborate on ideas to align your team's vision in Cacoo