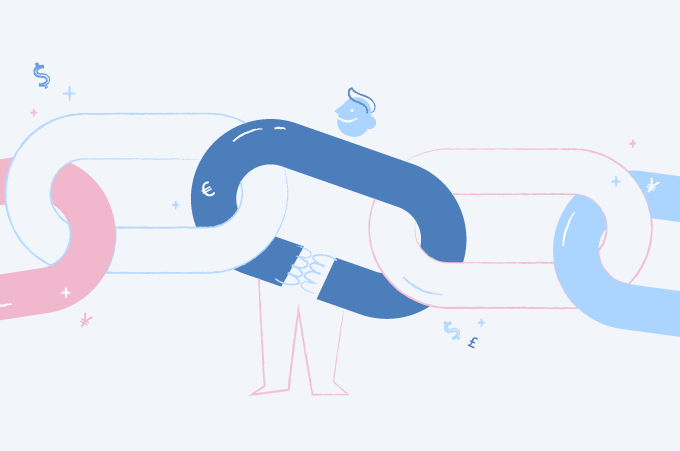 Burgeoning entrepreneurs will quickly notice that most business spaces are pretty crowded and competing with businesses years ahead of your is tough. So what should you do? Well, if you don't want to be one of the 95% of businesses that fail each year (eek!), a good place to start is with a value chain analysis.
When you create a product or service, there's a long list of activities that go into creating it: raw materials, labor, logistics, admin, management — and so on. This long list of activities is your value chain. A value chain analysis is, therefore, a visual representation of the business activities that go into producing a product or service from start to finish.
Setting the activities out in one diagram helps you better understand your processes, which in turn could help you eliminate inefficient activities, speed up production, and improve competitive advantage. It also helps you work out that sweet spot between offering your customers great value and bringing in a good profit for those services or products.
What exactly is a competitive advantage?
Competitive advantage is essentially anything that puts you ahead of the competition. It's rarely ever one thing, but rather a collection of interlinked elements all operating to their full potential. When all of these smaller elements are working together, they combine to give you a big step up.
But rather than optimizing these details ad-hoc, achieving competitive advantage means thinking strategically. That is, through a well-thought-out plan you implement with purpose and consistency.
To improve your competitive advantage, you first need to decide which of the following two leadership strategies your business will follow.
1. Cost leadership
This is all about offering the lowest possible price for your customers. Organizations that operate a cost leadership strategy are extremely efficient. They use the minimum amount of resources and work with cheaper materials to keep the overall price of their product or service down.
Cost leadership examples include McDonalds and IKEA.
2. Differentiation
Leading on a differentiation strategy is tricky because you need to supply a product or service that no one else offers. This means you'll need to dedicate a lot of time and effort to innovation, research, and product patenting or trademarking. Once you have that unique product, brand or service though, you can charge a premium.
Differentiation leadership examples include Dyson and Apple.
Once you've chosen your strategy, you'll need to conduct some in-depth market research so you can gain a full picture of your competitors and their own offerings. Then, you can work out where the opportunity lies and move on to optimizing your value chain.
What to include in your value chain
Most organizations, from the minuscule to the mighty, have hundreds — if not thousands — of business activities. So to simplify things, American academic and value chain godfather Michael Porter suggests that we should split it into two groups: primary activities and support activities. He created this diagram to illustrate his point: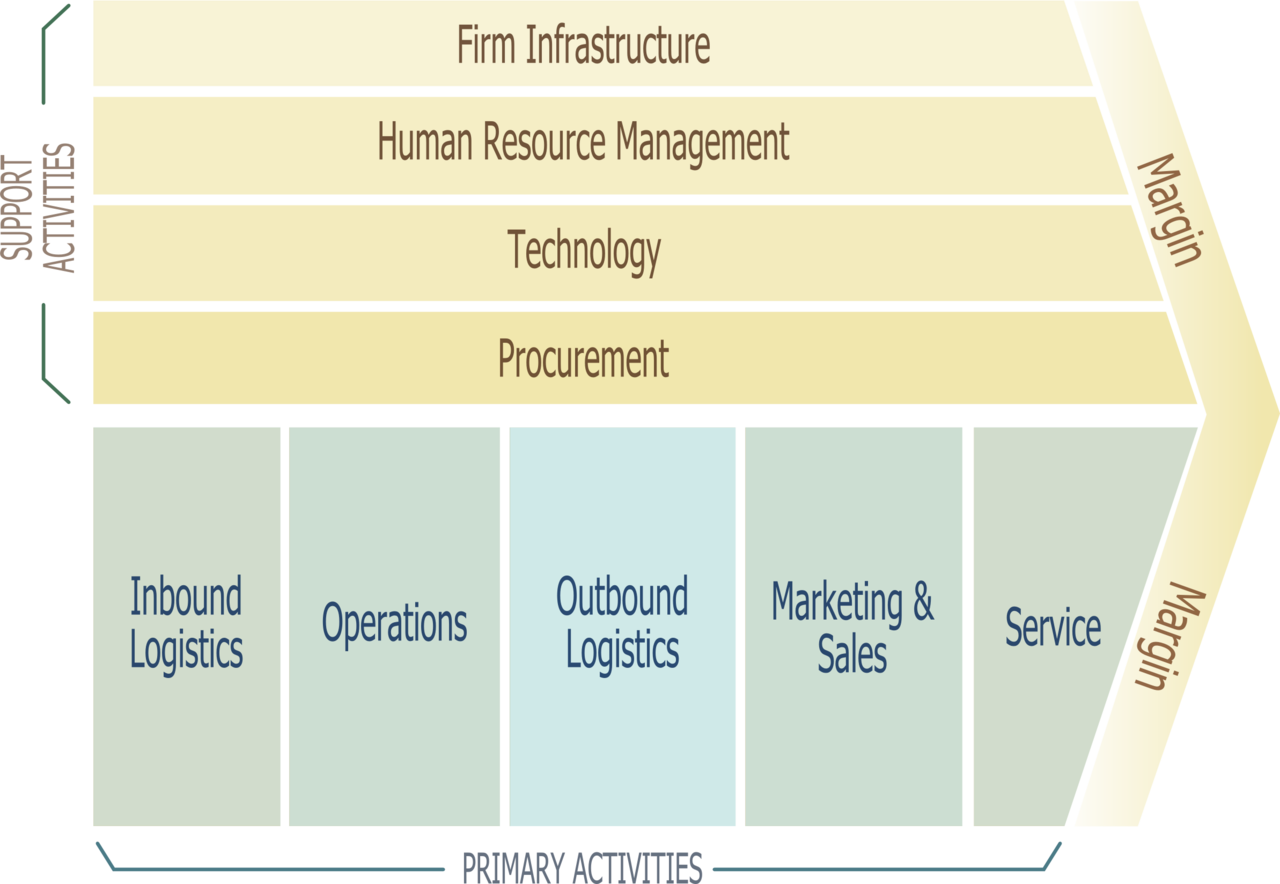 Value chain analysis example from Wikipedia.com
Primary activities
Primary activities refer to tasks that are directly related to creating and delivering the product or service. And there are five of them:
1. Inbound Logistics
This refers to the journey of materials/resources from the supplier to you.
2. Operations
How the materials or resources are processed.
3. Outbound Logistics
How the product or service is distributed once it's finished.
4. Marketing and Sales
How the product or service is promoted and sold to your target audience.
5. Services
The support you offer the customer, include training, guarantees and post-sale care.
Support activities
Support activities include everything that helps you carry out your primary activities and gain a competitive advantage. They include the following:
1. Firm Infrastructure
The financial and legal support your business needs to ensure it's well-positioned to make good business decisions. Having a strong firm infrastructure in place also protects you against potential issues that could damage your business' reputation.
2. Human Resource Management
The process of hiring, training, and managing staff. A motivated workforce with low turnover is especially important for businesses that provide in-person services, such as a bar or an airline, where the employees are a key part of the service.
3. Technology Development
Technology can help provide a better service and decrease production costs, which can give you a competitive advantage at various stages throughout the value chain.
4. Procurement
How resources and materials are found through various suppliers. The aim is to effectively balance quality against cost.
What's the link between primary and support activities?
It's important to remember that secondary activities are just as important as primary activities.
Support activities — especially those regarding technical innovation and HR management — can provide a valuable source of differentiation advantage as businesses become more innovative and markets more competitive.
And primary activities — especially those based around materials and logistics — can provide a strong cost advantage. The key is to see everything as a whole and optimize everything equally, consistently, and in-line with your broader business objectives.
Final thoughts
When running a value chain analysis, creating a visual diagram helps you see at a glance how everything interlinks.
Porter's value chain analysis is a good place to start when creating a general overview of your business activities. But it's not the end: you can adapt and modify the basic value chain for all kinds of business activities, including profit margin analysis and merger and acquisition transition analysis.
Using dedicated diagramming software can take the stress out of designing your diagram. Rather than struggling with weird Word formatting, just grab a template, edit it with custom shapes, and share it with your team. Plus, if you're using Cacoo — our own diagramming tool — you can store your value chain analysis and all of your diagrams in the cloud, collaborate on them with your team in real-time, and share or export your results with ease. All of this means you can create and optimize your value chain analysis quickly and easily.
Collaborate on ideas to align your team's vision in Cacoo