Dynamic diagramming is a powerful tool that can help you build a better foundation for any project. Designers, developers, marketers, and project managers alike can learn by diagramming their ideas and collaborating with others.
Optimum Communication
From flowcharts to mind maps, diagrams are a powerful way to communicate macro and micro details of a project to all of those involved in its creation.  It is the language that bridges the melting pot of teams making the project come to life. Programmers can collaborate with designers, clients with contractors, all reading the visual blueprints created through diagramming. Clarity through communication leads to efficiency. Chika Tsunoda, CEO of the skill sharing service ANYTIMES, is an avid user of Cacoo, Nulab's diagramming toolkit. In a recent conversation with her, she relayed just how invaluable diagramming was to the communication process of creating her product:
"It was important that we communicated what we wanted to make, so with the creation of the wireframe, we reached out about this work to the people at the systems company and to the freelance engineers […] and through Cacoo we were able to tell them what we wanted to make, and immediately communication became smooth." – Chika Tsunoda, CEO of ANYTIMES
Business & Project Management
Managing those involved in your project, team or business requires a keen organization for smooth operation, and diagrams are there to rein in that organization. Charting out the hierarchical structure of a company or project team from the start is a huge step in streamlining an efficient workflow. Cacoo offers several business organization templates for you to build upon, depending on the needs of your particular structure.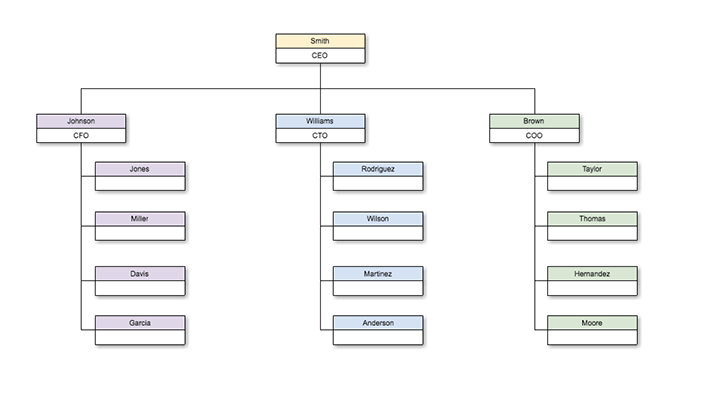 Basic Org Chart2, Official Cacoo Template
Mind Maps
Once the team is assembled, it's only a matter of time before the planning meetings begin. A clean and easy way to organize thoughts and notes is through mind-mapping. A mind map concisely condenses and organizes a web of ideas that branch out into categories surrounding a main topic. Say goodbye to pages and pages of notes and say hello to one wonderful web.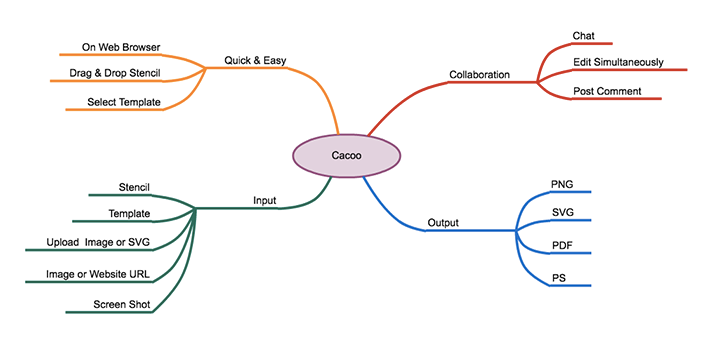 Mind Map 1, Official Cacoo Template
Flow Charts
Diagrams not only facilitate and organize communication, but they are also the actual meat of the communication that is shared, analyzed, enhanced, prototyped and developed. When designing apps, websites, services, narrative video games, and software, or when analyzing business work processes, it is important to map out where every outcome, interaction, choice, and selection may lead. You need to Know Your Flow! Flowcharts are used to map out the flow of any product, service or process, a rabbit hole of possible outcomes that troubleshoot your product as you create it. Let the "If this, then" mantra guide you through creating this detailed diagram.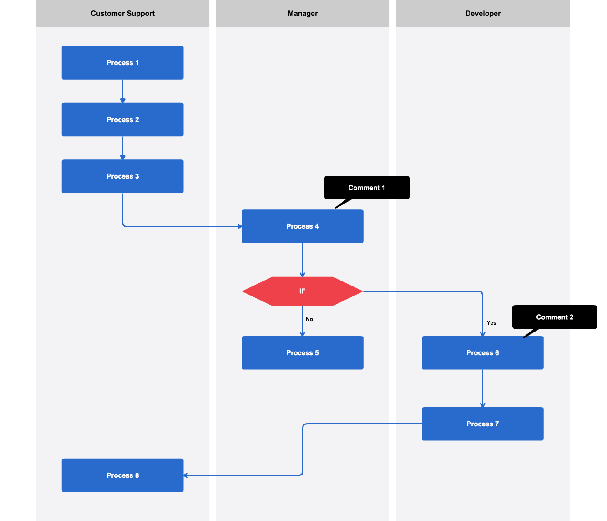 Flowchart 3, Official Cacoo Template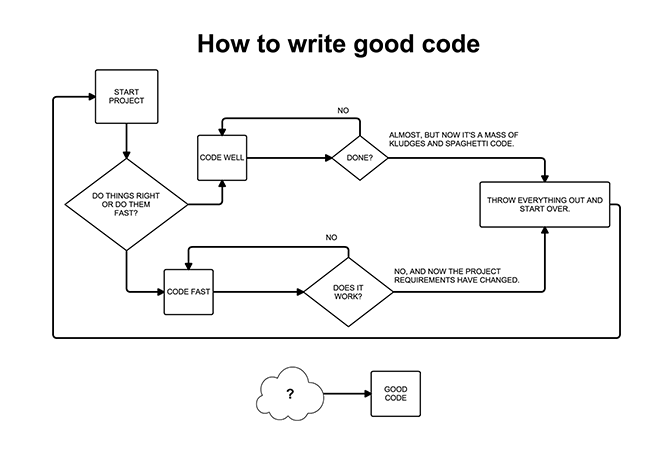 Flowchart, Official Cacoo Template
Wireframes
Your flow chart is key to informing the UI of your design, how a user will navigate your site or play your game, or even call into your automated system. It is the floor plan that informs programmers, designers, architects, etc., the parameters of how and what they must create for the interface of your product or service. The flowchart leads you right to your wireframe, a visual layout of the design that implements the guidelines of the flowchart and works hand-in-hand with it. A wireframe is the elevation plan, the graphical mock-up of your product, creating a tangible, visual design that illustrates the product and its flow.  Together the wireframe and flowchart can be used to develop a prototype, the next step in making the product come to life.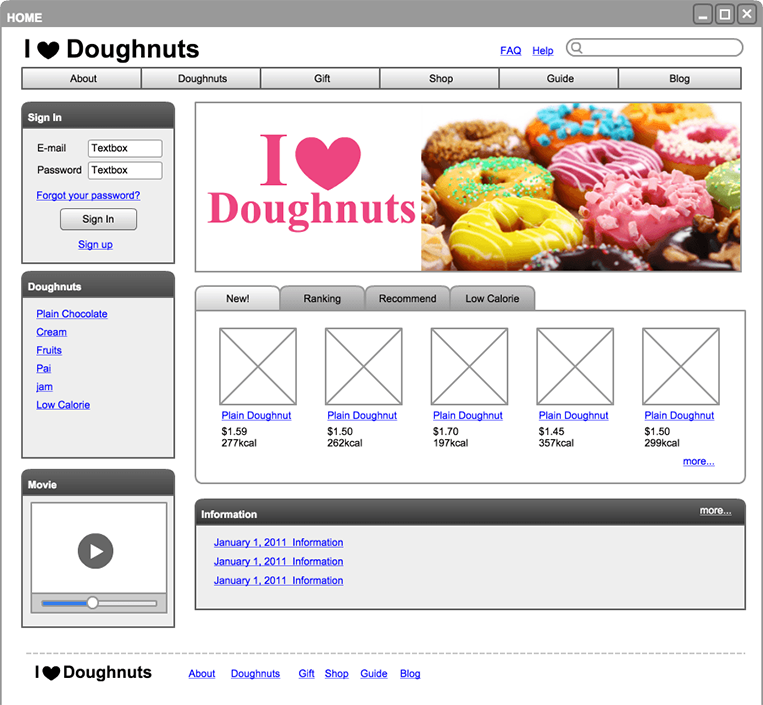 Wireframe 1, Official Cacoo Template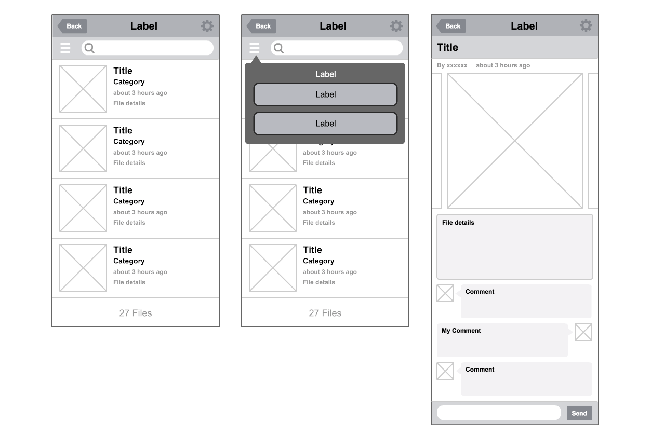 Wireframe 5, Official Cacoo Template
Presentations
No great project goes un-presented. Diagramming tools such as Cacoo provide the perfect climate for making presentation slides. Create unique graphs and images for data visualization, add images and text, and insert original diagrams such as wireframes and UMLs that were used in the process. You can say that products begin and end with diagrams, and the presentation is a clear example of diagrams coming full circle.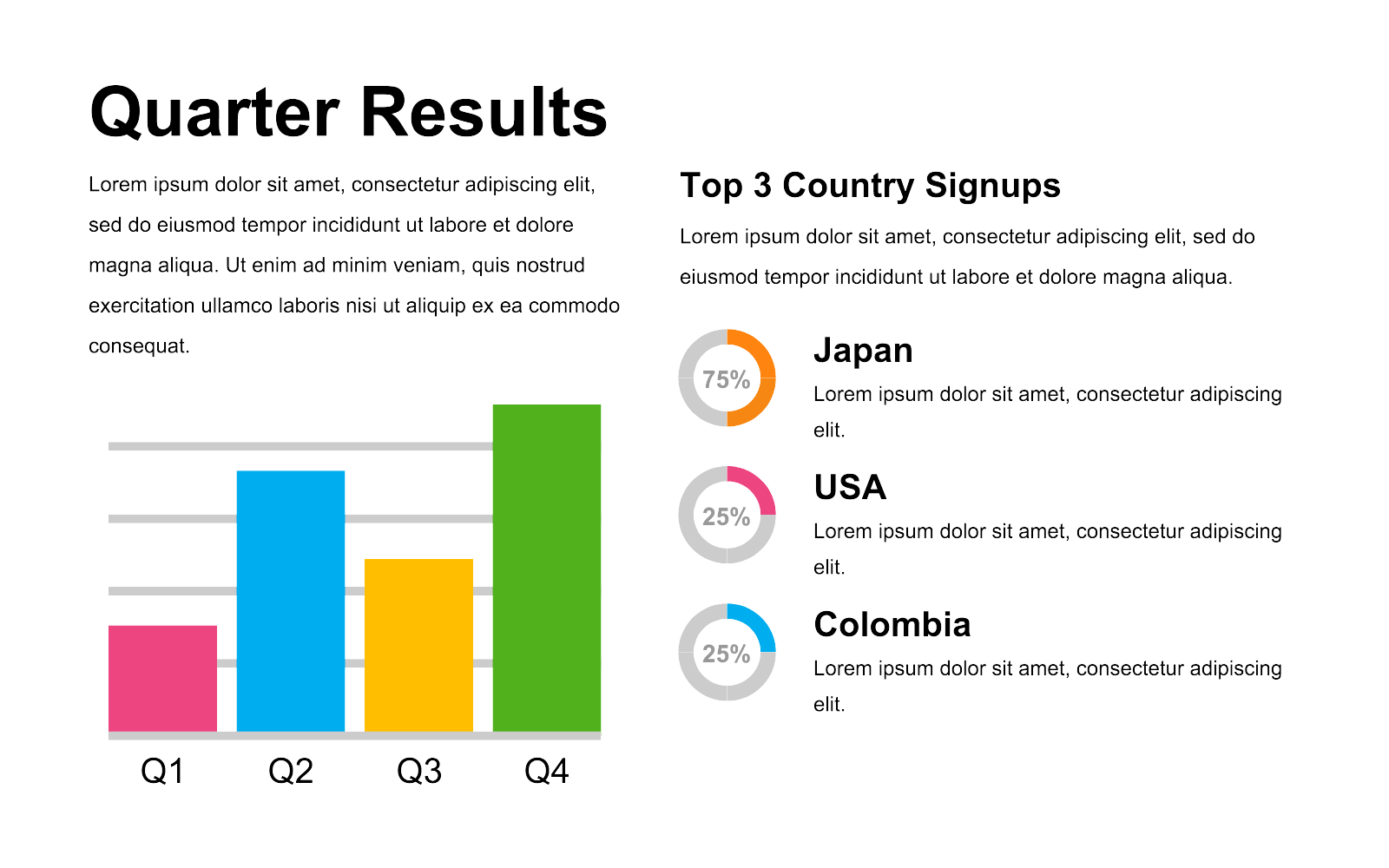 Presentation, Official Cacoo Template
The diagram toolbox is not limited to these applications. Rather, it is an endless supply of customizable tools that enhance communication, design, efficiency, and structure. Whether your business already embraces diagramming or if it is new to the tool, it will certainly benefit immensely from this powerful resource.
WARNING: Diagramming is addictive. Signs of addiction include sudden organization, creative inspiration, and the need to Venn diagram every life decision. Don't worry; you are not alone. You are just in the right wire-frame of mind.
Collaborate on ideas to align your team's vision in Cacoo