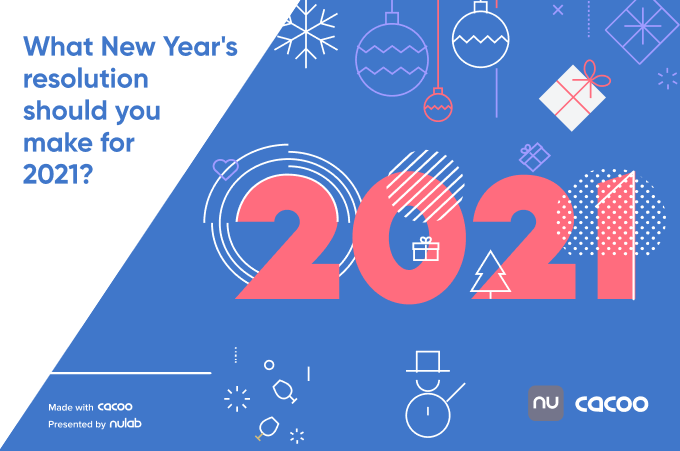 5… 4… 3… 2… 1… Happy New Year from Nulab! The beginning of another year has rolled around again. 2020 proved to be a difficult year for most, but we have high hopes for what we can achieve in 2021. Part of starting your new year off right is setting an attainable New Year's resolution. We'll help you choose the right one for you and figure out a plan to make it happen. Let's get started!
Choose your New Year's resolution
Using our fun flowchart, answer the questions it poses and trace your path through to the end and find what your best resolution will be for 2021. Don't like your answer? You can always read through the others and see if you like any of them fit what you're trying to accomplish in the next 365 days. Maybe it'll be learning a new language, expanding your music taste, learning to cook more, being grateful for the things in your life, or budgeting so you can achieve more goals in 2021 or 2022.


Why New Year's resolutions fail
Now that you've got a goal in mind, let's figure out how to make it a reality.
We all know the stereotype. Everyone and their mother makes the resolution to get in shape, but by February the gyms are all empty again. According to studies, upwards of 80% of all New Year's resolutions fail. Finding out why we fail and making a plan to overcome these reasons will keep us all on the path to resolution success this year.
1. Setting too lofty of goals
It's easy to say that you want to lose 50 pounds this year, but when you're looking at the scale every day for two weeks and not seeing much progress, it's hard not to get discouraged. Only seeing goals as one end result instead of a journey of achievement is one of the big reasons we tend to fail.
Imagine that, instead, you set a goal to lose at least 3-5 pounds per month. All of a sudden, that 50 impossible pounds is completely doable! Just because you aren't constantly holding yourself accountable for your end goal. You could even try putting together a New Year's resolution template or chart to track your progress toward your goal and remind yourself of your forward motion every day.
2. You have to want the change
So often we make goals that we'd like to accomplish but have no actual dedication to follow through. Making a resolution and setting that goal for yourself, ask if it's something you're actually interested in making the changes. If you can be honest with yourself and the answer is now, try down-scaling the goal for now. Instead of losing 50 pounds, maybe aim for 30 or 20 pounds. Or make a goal to go for runs three days a week instead.
If you really want to stick to your original goal but are worried about if you can fully dedicate yourself, look to add inspiration to your daily routine. Find a role model or mentor, or do something as simple as adding New Year's resolutions quotes to keep you inspired all year long.
3. Be accountable
Not only to yourself, but you can also add your friends and family into the mix. Let them know about your goal and your plans throughout the year. Ask them to check up on you or even to help you make good choices when you're around each other. They can remind you to choose the healthier option, stay off your phone, or recommend new music to you.
Involving someone else has the added bonus of someone to celebrate your successes with. Your loved ones will be just as happy as you will be when you've put your mind to something and achieved it!
Final thoughts
No matter what your New Year's resolution is for 2021, the first step toward achieving it is to just set the goal. Now that you have the goal and the plan, we know that you can do it!
Cacoo is a great tool you can use both personally and professionally. Set up your plan using one of Cacoo's templates or by creating your own chart in our whiteboard space. It's also perfect for your team to use at work for all of your simple diagramming and layout needs. Get started creating something professional or just for fun and start using Cacoo.
Collaborate on ideas to align your team's vision in Cacoo