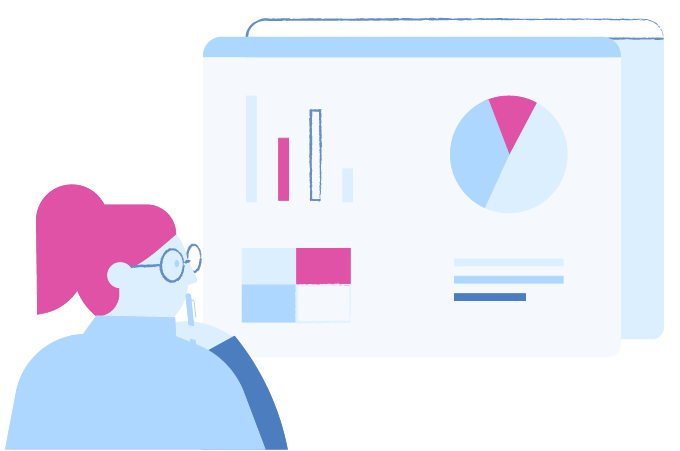 A gap analysis really does what it says on the tin. For those unacquainted with the term, it's essentially a way for project managers to measure where they are against where they'd like to be. The difference between the two is what's known as the 'gap' — and it's the PM's job to close it.
A gap analysis could cover a huge range of variables, from targets and financial performance to technical skills, customer satisfaction, energy conservation, and more. It could also focus on one variable or several simultaneously.
A well-conducted gap analysis does two things. Firstly, it reveals how resources can be used more effectively, which benefits that all-important bottom line. Secondly, it helps the PM define measurable targets and assign jobs and resources accordingly. Pretty handy, right? So how can you make this helpful technique work for you? Read on!
Pick a focus area and assess
First, you need to pick an area to focus on. Then, you'll need to honestly assess where you and your team are at the moment. This is not the time to sugarcoat things — the more honest you are, the more you'll get out of your analysis.
What you measure will all be down to the industry you're in, but it typically includes things such as time, money, and resources.
Work out your goals
Next, you'll need to decide what it is you want to improve and work out how you're going to do that.
Be realistic about what you can achieve, but also be aspirational. Where would you like to be? What can you and your team feasibly achieve? What do you need to do to reach that point? And when you're there, how will you measure and prove it?
Bridge the gap
So you have an idea of where you are and where you want to go. Next, you need to identify your gaps and work out what you need in order to bridge them. Is there anything stopping you reaching your goals? What tools and resources will you need? Do you need additional investment and buy-in from the board?
Watch out for blue sky thinking
Being optimistic is a lovely trait to have, but when it comes to projects, it pays to have two feet firmly on the ground. Prepare for roadblocks and hiccups and factor these into your plan of action, both in terms of time and cost.
With this in mind, it's a great idea to incorporate some process improvement tools into your project before you begin. Setting out with a process diagram not only helps you organize your own thoughts, but it also helps you show potential investors and colleagues at a glance where the issues are, and how you plan to address them.
SWOT analysis
SWOT stands for strengths, weaknesses, opportunities, threats. A SWOT diagram is an incredibly popular business tool designed to help you analyze your position in the market and strategically shape your decision-making.
First, you can use it to help you assess the state of your current operations. Then later, you can use it to assess and refine your proposal(s).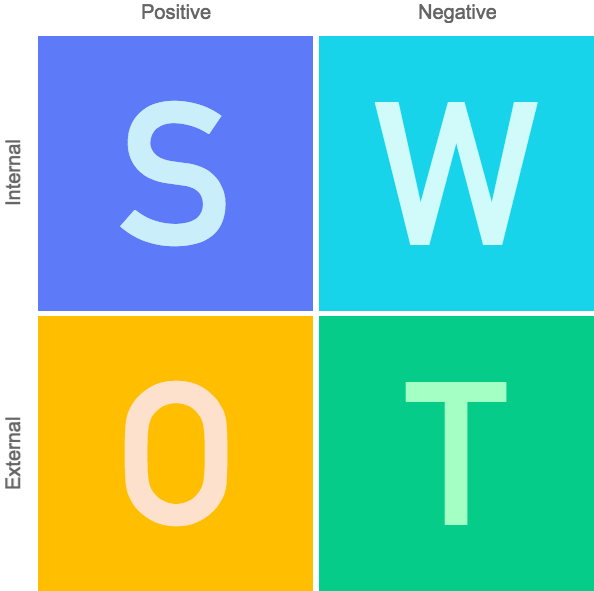 Learn more about how a SWOT chart can help you here.
PERT charts
The Program, Evaluation, and Review Technique (PERT for short) is a project management method that itemizes the separate tasks that make up a project, then helps you analyze the time it will take to complete each one.
It also helps you identify the minimum amount of time you'll need to complete the entire project as a whole. It's particularly useful when working out how long a project will take and organizing the order of tasks that contribute to the final outcome.
In terms of gap analysis, it can help you plan your gap-closing proposal and weigh up resources/time/money spent against your projected gains.

Dive into using PERT charts here.
McKinsey 7S
Named after the consulting firm who developed it, this process tool helps you work out whether your organization or team is meeting current expectations.
The seven S's refer to the following interrelated elements within an organization: strategy, structure, systems, shared values, skills, style, and staff. The ultimate goal is to help you:
Gain a greater understanding of how various elements are interlinked;
Help you identify gaps that could potentially appear and affect performance;
Identify areas that could potentially boost business; and
Align processes during changes, minimizing disruption and boosting productivity.
To apply the model to your gap analysis, you need to analyze each element to see if they align with each other. Then, you need to define a plan for aligning any that don't.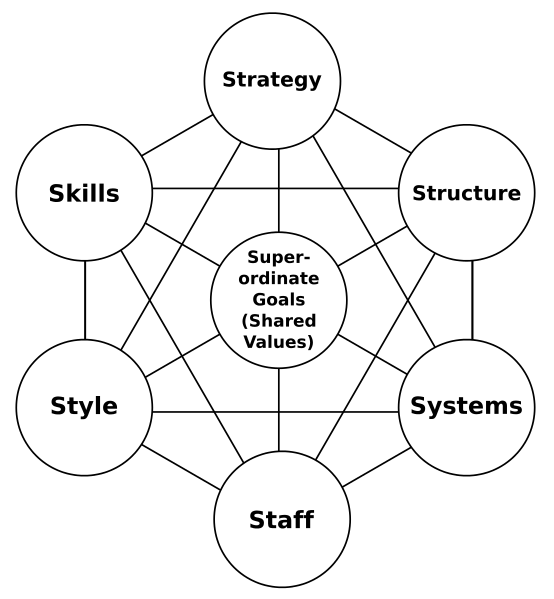 The Nadler-Tushman Model
This tool gives you a big-picture view of your organization's or project's processes, helping you see the root causes of a performance problem. It also links the different elements, which makes it a useful tool for showing you how the changes you make will impact other areas.
It addresses the compatibility between four elements: work, people, structure, and culture. The higher the compatibility, the better the performance. The elements are then organized into three groups:
Input: all of your company's environment, resources, culture, and the workforce used to create the product or service.
Transformation: The systems, workforce, and tasks that take the input and turn it into the output.
Output: The final product or service.
When using this to conduct a gap analysis, it's important to pay attention to how the different elements fit together (their congruence). This shows you how the company performs as it does, and will help you predict how it'll perform after you've made adjustments. This model helps you align factors both within and outside of the company and respond effectively.
Final thoughts
This is just the tip of the iceberg; these are the most popular gap analysis tools at your disposal, but there are others out there. The key is to work out which tool (or combination of tools) best fits your business objectives.
You can also invest is a few tools to help you get there, like online diagramming software with cloud-based sharing options and plenty of easy, editable templates. That way you can easily get input and collaborate with others to produce the most accurate gap analysis possible before putting new protocols in place.
Collaborate on ideas to align your team's vision in Cacoo