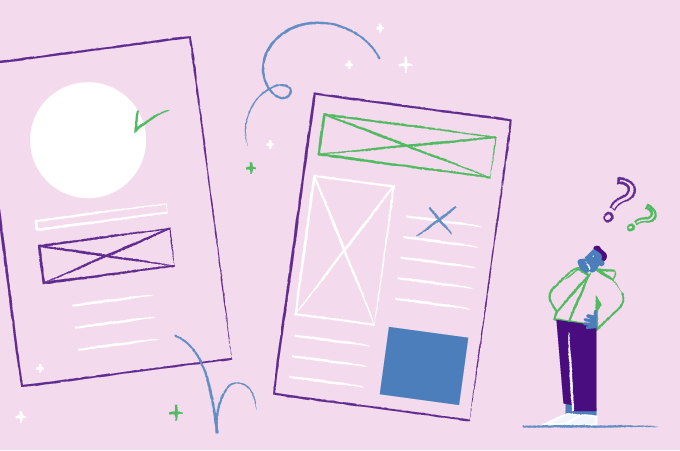 For a long time, digital designers were responsible mostly for the 'look' of a product. Whether that was creating a new logo for a brand, an icon for an app, or choosing the color combos for a website, it was the designer's job to make it pretty.
Today, the role of the digital designer has evolved into something more complex: they're now responsible for both the look and the feel of the website or app.
When we say the 'feel' of something, what we mean is the experience the user has while using it; i.e., the way different elements on the page interact with each other, and the way the user makes their way from one page to the next. This is what's known as the user experience, or UX for short.
What does a UX designer do?
Enter the UX designer. It's their job to make the user experience as easy and enjoyable as possible. And to do this, they need to see their work as a big living, breathing thing where each element interacts seamlessly with everything else around it.
First, they gather all the information they need to create an initial wireframe. A wireframe shows exactly what the site will include and how it functions, free from distracting color or imagery. Then, they work with their team and stakeholders to finalize each piece of the design.
Once approved, they (or their team) can move onto making things look pretty. Some UX designers strictly stick to functionality and wireframing while others have a dual role of also handling the look of things.
UX has made the field of design more complex, but also more methodical. And people from all kinds of professional backgrounds are now wondering how to become a UX designer themselves.
If you're ready to become a UX designer, read on to discover where to begin, what to learn, what to read, and who to follow. You'll need all of these tips to be successful in today's market.
Do your research
Before you start registering for courses or ordering books on UX, make sure you know what you're getting yourself into. The Interactive Design Foundation website and UX Planet are packed with useful information and resources for starters, while Indeed.com has everything you need to know about salaries, requirements, and typical job descriptions. There are also plenty of UX design podcasts to discover — perfect to listen to while you're driving or taking the dog for a walk!
It's a good idea to chat with a few established UX designers in person as well, so you can ask questions more specific to your situation. Everyone's experience with UX design is a little different, so the more people you chat to, the more you'll know what to expect. Remember, you need to prepare not only for how to become a UX designer but also for how to thrive as a UX designer for years to come.
Once you feel ready to make an informed decision, it's time to start making concrete plans.
Plan your journey
'Become an awesome UX designer' is a daunting and sort of ambiguous goal. To make it as a UX designer, you're going to need to break down your vision into smaller, manageable tasks. These smaller goals will give your journey structure and help you stay motivated.
First, compile a list — or syllabi — of everything you want to master. Then break down each area into the particular books, readings, or courses you'll need to learn them. Finally, create actionable and time-based goals for each.
One popular goal-setting methodology is what's known as SMART goals (which stands for Specific, Measurable, Achievable, Realistic, and Time-bound). SMART goals help you both organize what you want to achieve and evaluate your progress along the way. Defining metrics for success and reviewing your progress along the way will keep you focused and help you self-validate to stay motivated.
Practice, practice, practice
Ask any pro how they got there, and they'll likely tell you two things: immerse yourself and practice.
Apparently, it takes 10,000 hours of practice to become an expert in something. And while scientists are skeptical about this fact, the old adage 'practice makes perfect' does hold true. The more you practice and refine your craft, the better your work will be.
If you're in the very early stages of your career, chances are you'll struggle to find professional assignments. You're likely to get stuck in the 'you need experience to get work, but need work to get experience' conundrum. Don't let that get in your way — make up your own projects and use those to create your first portfolio.
While it may feel weird to create projects out of thin air, it shows that you're proactive and enthusiastic. It also means you'll have something tangible to show prospective employers/university tutors, so they can properly evaluate your potential.
Don't forget to document your thinking along the way, so that when asked about your designs, you have the reasoning to back it all up. It's also a good idea to invest in some dedicated diagramming software, so your finished products are neat and professional looking.
Tip: If you're drawing a blank while trying to think up a project for yourself, check out Briefbox. It's full of practice briefs, not to mention a whole load of useful resources for budding UX designers.
Join a community
We've already mentioned Briefbox as a place to find briefs and resources. But it's also a great place to share your work and see what others are working on — just check out the 'submissions' tab. Dribble is another popular spot to submit your work. Post your work on Dribble, and you can receive feedback from the community of beginners and seasoned pros alike.
Following and interacting with people on social media is another great way to learn from the pros, meet other designers in the community, and get feedback on your own work. Here's a list of must-follow accounts Twitter and Instagram to get you started.
Becoming a part of the UX community is a great way to get inspiration, solicit feedback, ask questions, and generally, learn from your peers at various stages in their careers. As you become an expert, communities are also your chance to give back and contribute to the general knowledge of those around you.
Find a mentor
The next step up from joining an active community is finding a mentor. A mentor can be a colleague, someone outside of work, or a designer you've spotted on social media.
The key to picking a mentor is choosing someone whose ability surpasses yours and whose work you admire. You should also respect them and feel respected. It's their job to help you grow, and at times, this will be uncomfortable. But if you have a strong relationship, then they'll feel comfortable critiquing you, and you'll feel happier knowing and trusting they have your best interests at heart.
Having a mentor not only helps you grow as a designer, but it also helps you prepare to be a mentor yourself one day.
Design degree: important or not?
This debate has been raging for years. On the one hand, a design degree teaches you the basics of design while immersing you in a dedicated community. On the other, it costs a small fortune and takes time away from earning money.
It's ultimately up to you, but it's not necessary for everyone. If properly motivated, you'll be able to give yourself the same education as those who go to school. You can even look at school websites to take inspiration and guidance from their online curriculum plans.
That said, it is beneficial to take at least one design course if you can. Taking a course will give you a better idea of how to structure your learning, which will help you stay motivated and focused further down the line. Lynda and Skillshare offer classes on all elements of UX design, some of which feature influential teachers right from the design world.
Read far and wide
Last but not least, read everything you can get your hands on. You'll find loads of UX designers sharing their stories and ideas on Quora and Medium. Twitter and Instagram make it easy to find relevant UX content: just type 'UX design' into the search bar to explore more user profiles and conversations. You can also search and follow topics on Instagram via hashtags — here's a list of the most popular UX-related tags being used at the moment.
And last but not least, stock up on essential UX books. For starters, we recommend Susan M. Weinschenk's 100 things every designer needs to know about people, Jeff Gothelf's Lean UX: Applying Lean Principles to Improve User Experience, and Steve Krug's Don't Make Me Think: A Common Sense Approach to Web Usability.
The more widely you read, the faster you'll get a feel for the kinds of challenges, subjects, and questions UX Designers are currently discussing.
Follow the advice we've discussed here, and you're on your way to becoming an influential designer yourself.
Collaborate on ideas to align your team's vision in Cacoo