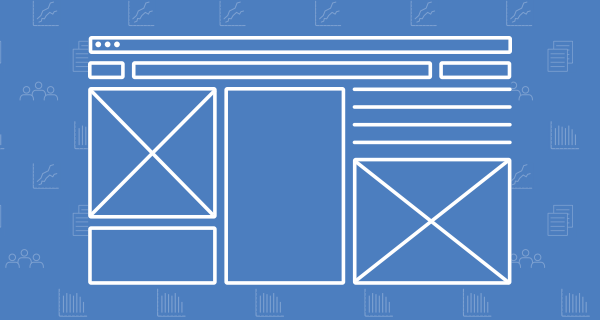 Too many UX Designers jump the gun and start wireframing before they've collected enough information to make an informed design. Unfortunately for their teams, these efforts don't just waste their time but everyone's.
Before you sketch a single wireframe, there are a few tasks you need to complete to ensure that you're ready to design a wireframe that achieves the right goals. The right preparation and proactivity will give your project much higher odds of succeeding.
Whether working with an external client or internal stakeholders, your work begins with important data collection and requires a detailed analysis before you start designing. Make sure your early stage planning includes these tasks.
Client Survey: Obtain All Source Material
The first step is to delve into your stakeholders goals. The best way to do so is by using a stakeholder survey. Consider this the familiarization stage of your working relationship.
Stakeholder surveys are vital even if you know your stakeholders from previous projects. Customer tastes change, data leads to new marketing targets, and the mission of a business often evolves over time. Without an in-depth stakeholder survey, you may miss such information.
Without these details, you're left with assumptions or guesses, a lofty way to start off a successful project. Moreover, this kind of misstep can lead to rounds of revisions down the line that could have been avoided.
Instead, get what you need to know upfront. It won't take long to get this information either. There are several viable options to do so. They include:
In-person meetings
Telephone conferences
Sessions over Skype, Google Chat, etc.
Email
In all cases, take good notes that you can easily refer back to when necessary. A voice recorder for playback can be greatly useful for additional note taking later on.
Asking the Right Questions
Prepare by analyzing any and all source material you can find. With existing brands and properties, you have a wealth of information to pull from. This includes:
Company branded properties
Social media
Media coverage
Press releases
Fan reviews and comments
Competitors (Content, search rankings, etc.)
Use whatever is out there to ask the questions you need to know. Collect it all into an Excel sheet to begin your content inventory, which will come up later in the process. In a word document, outline each property for quotes, news, and intriguing content.
Sometimes there won't be an active existing presence. In this case, you'll have less existing information to pull from, but you'll be well prepared with the questions you need to ask. Expect to do a bit of legwork to compile all this information. While it may seem like a lot of information to assess, you will be thankful you did the necessary research and analysis upfront.
Once you're prepared, it's time for the interview. Be sure to ask the foundational questions required for all projects. Then, ask any questions that help establish project goals, including:
SEO goals
Target audience
Branding
Marketing
Tone
Call to action
With thorough research, your project is off on the right foot.
Online Access: Gain Entry Where Needed
The next two tasks can be partially completed while conducting your stakeholder survey. It doesn't matter when you begin as long as all information is acquired. Here, it's about having all your needed credentials.
Think over every aspect of the project. Be sure to collect your client's essential information. Obtain data from social media logins to domain registration. The needs vary by project. Be sure to evaluate on a case by case basis.
Chunk your project into an Excel sheet. Use one large sheet or separate by tabs. Either way, list your project. Use headings like:
Social Media
Email Marketing
CRM
Domain Credentials
Analytics
You can begin to build this list during your fact finding. Round it out in your stakeholder interview. After the meeting, send a follow-up email with the sheet's link so they can add any additional information they forgot.
With this information, begin to enhance your client survey with keyword analysis from Google Analytics. Study ranking keywords along with what searches the client wants to be found on. Discover how they fare against the competition. Use everything to build your plan's purpose.
Some early-stage clients might need you to register additional properties. Or, they might need you to migrate to a better platform. This will be covered before any plans are finalized. Account for any extra work in your planning.
Content Inventory: Collect All Visual Information
This task involves a mix of research and data entry. Create a content inventory for any existing content your project may use. This can be somewhat time-consuming for larger projects.
Consider that time a benefit when it comes to branding. You'll become deeply acquainted with the project by cataloging and detailing every piece of visual and written data. Having such information avoids veering off brand.
Using a new Excel sheet, one tab only, list out each existing page. Then analyze and collect all written and visual copy. This includes listing every blog hyperlink, subheadings, and clickable anchor text. Further on the table, create a files tab to cover all the content found on the page.
Lastly, make comments on the pages. List any redundancies, glitches, and navigational errors for addressing later.
With your list, scan for any areas requiring revision. Some teams will then make proposed changes in the current inventory. Others will opt for a fresh document to compare the two. The latter helps if you plan to show the list to your stakeholders.
Once complete, your content inventory serves as additional project branding guide. Now, you have a meticulous hierarchy in place. Use this to steer your designs and layouts.
Client Mastersheet: Combine the Collected Knowledge
Use each task with the others for a full view of the project. Implement each bit of information to enhance the others. Align your analytics findings with your revised content inventory plans. Use your domain credentials to discover SEO optimization efforts.
Together, you'll be able to make proactive plans and proposals that can realistically meet your stakeholders requirements. This should reduce revisions and make remaining on brand easier. Collect this critical information early for smooth sailing later on.
Collaborate on ideas to align your team's vision in Cacoo