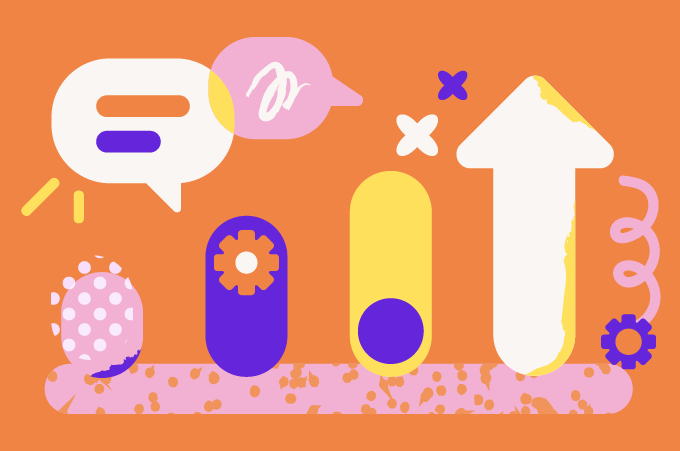 Everything we do in the workplace consists of processes. That could be booking team lunches, ordering new stationery, or using new tech. Because workplaces constantly evolve and there's always a need to do better, it's important to step back and evaluate those processes from time to time.
The problem is, changing things isn't always easy. How familiar does this sound: you come up with a great idea. You plan it meticulously, get sign-off from your manager, implement it—and then within a matter of weeks, everyone's doing things the old way.
Old habits die hard, and people are naturally resistant to change. Throw organizational bureaucracy into the mix and all of a sudden, that small improvement doesn't seem so straightforward.
Without a structured approach, it's difficult to keep things moving—or even achieve lift-off in the first place. Here's how to choose a process improvement methodology, implement it, and most importantly—ensure it sticks.
What is process improvement?
Process improvement involves identifying an existing process, analyzing its effectiveness, and coming up with ways to make it easier, more efficient, better able to meet customer needs, and/or new best practice standards.
Generally speaking, process improvement plans focus on one or more of the following areas:
Efficiency
Quality
Completion time
Resource waste
Regulatory compliance
Activity streamlining
Which Process Improvement Methodology should you choose?
The secret to getting the most out of process improvement is to choose a methodology that fits the goal.
There are several to choose from, each focused on a slightly different outcome—which is why it's so important to learn about the routes available, as well as their corresponding diagrams (having a diagram in place will help you visualize all that complex data and make it easier for you to organize your thoughts).
Here are the most popular process improvement methodologies.
Kaizen
Kaizen is a process focused on continuous improvement through small changes in daily work/company culture. It involves all employees—from the newest junior right up to the CEO. As a process, it focuses on improving quality, productivity and efficiency through small shifts in daily work or corporate culture.
PDCA Cycle
Also part of the Kaizen methodology, PDCA stands for plan, do, check, and act. It helps organizations be more efficient when identifying processes that need improvement. You first identify the problem (plan), create and implement a solution (do), evaluate data for effectiveness (check) then document the final results and implement the plan if it's successful (act).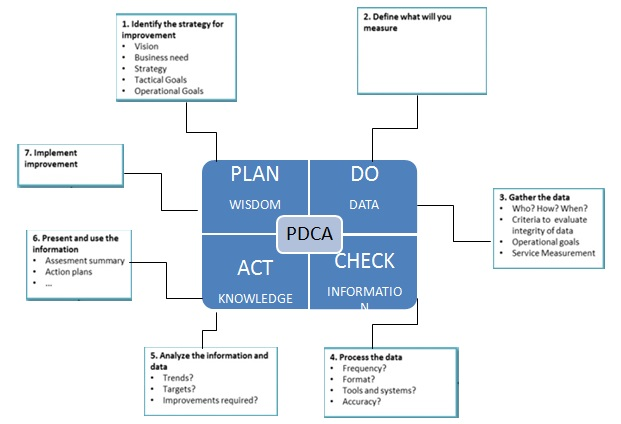 5S
Part of the Kaizen and Lean methodologies, 5S stands for Sort, Set in order, Shine, Standardize, and Sustain—with the ultimate goal of promoting workspace organization and efficiency.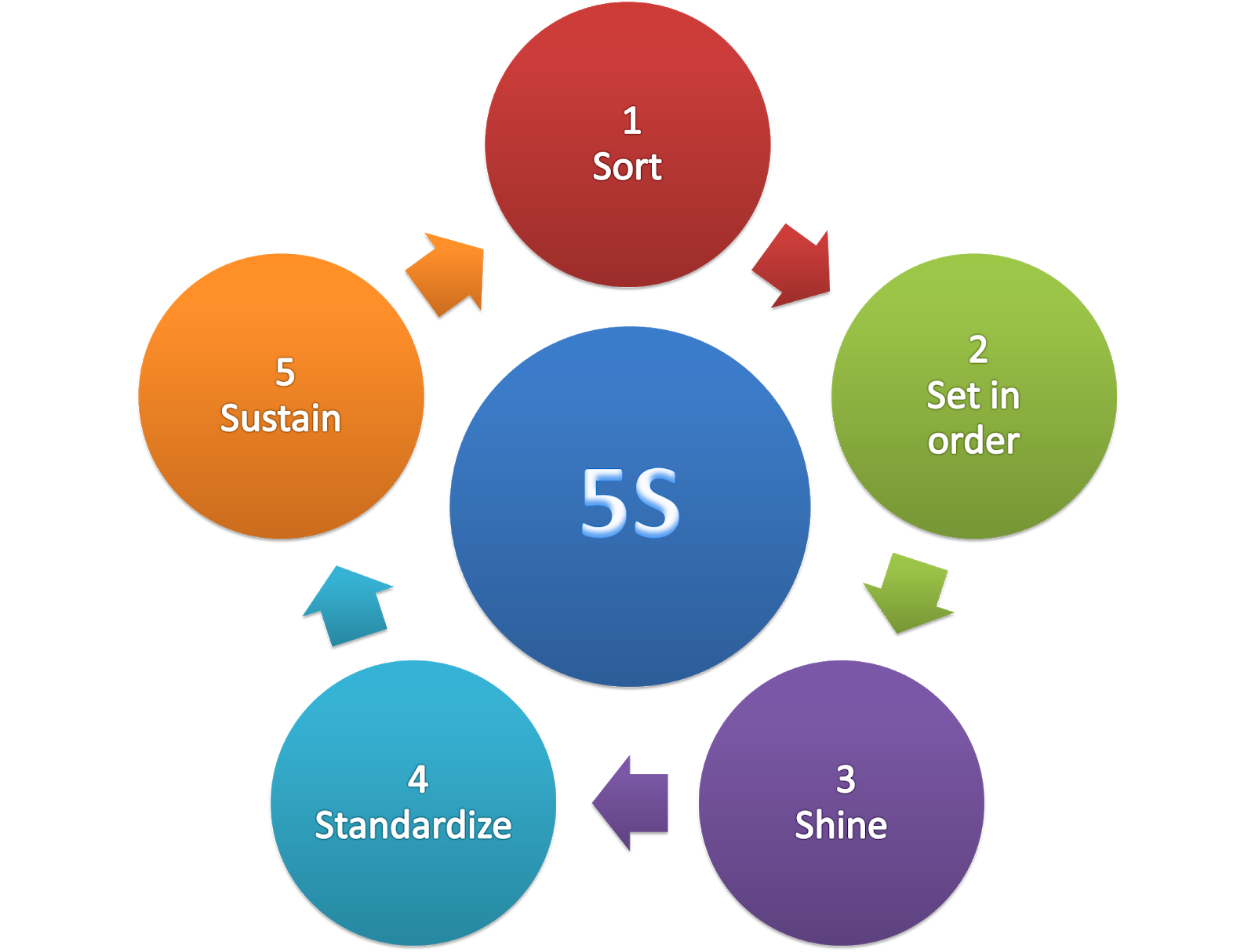 Six Sigma
Six Sigma involves employees working their way up though various 'karate belt' levels, with green being the starting point, and black being the top. It has two sub-methodologies: DMAIC for improving existing processes, and DMADV for creating new ones.
DMAIC is an acronym for Define, Measure, Analyze, Improve, and Control. It's a five-step process aimed at refreshing processes that are currently underperforming.
DMADV, also known as Design for Six Sigma, stands for Design, Measure, Analyze, Design, Verify. This is similar to DMAIC, except it's for processes that haven't yet been implemented: its role is to create a new process that works.
Handy Six Sigma diagrams to know
SIPOC analysis: This happens during the 'measure' stage of DMAIC or DMADV. As a process, it helps organizations identify business requirements, then create and implement a process improvement project. It's a form of swimlane diagram.
Value stream mapping (VSM): This helps companies map out their customers' perceptions of the brand or business, which, in turn, helps pinpoint the value a process or product brings. As with the other methodologies, it's focused on eliminating waste.
Fishbone diagram (also known as a cause and effect diagram): this places the main problem at the head, with lines branching out—each one representing a different potential cause.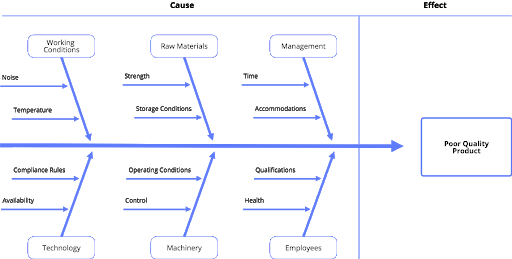 Total Quality Management (TQM)
This process requires every employee to work towards an improvement in the supply of products or services. It varies from company to company, but some key features include the following:
Customers determine the quality
All employees work towards shared goals
Quality increases over time
Managers define goals, manage performance, and look for new ways to be more effective
Kanban: this is a workflow tool that uses visualization (usually a digital 'board') to get everyone working together to improve processes. As with many of the other methodologies, there's a focus on Lean improvement.
Process Mapping:
Process mapping, also known as a process flowchart or functional flowchart, this workflow visualization tool helps teams map out process improvement. It's a flow diagram that shows key stats about a workflow from beginning to end.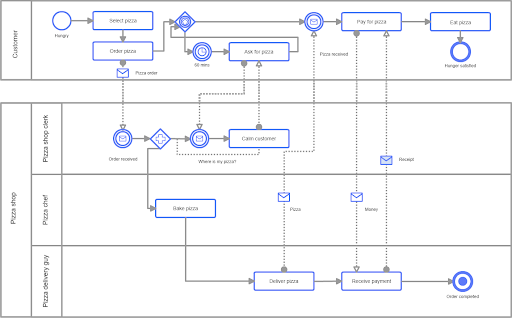 How to create a process improvement plan
Once you've chosen your methodology (and got to grips with the corresponding diagrams), you need to put your plan into action.
1. Choose your process
Write down the different steps you need to complete the process via your chosen diagram. Ideally, you should be using diagramming software for this, rather than bits of paper or whiteboards: if everything's digital, you can edit, save different versions—and most importantly—easily share it with the wider team and stakeholders.
2. Refine your process
No process improvement methodology is perfect the first time round. Set some time aside to really delve into each step and work out where there are bottlenecks, delays or inefficient processes. Lean process improvement is all about small, iterative steps—and your planning and development should be no different. If you're struggling to locate the root cause of a specific issue, use a root cause analysis/ fault tree analysis diagram to help you uncover issues.
3. Revise, reshape and refresh your process
You've located your problems and you know what to do about them. Now it's time to roll your plan out to the wider team. As well as using this as an opportunity to get everyone on board (strong organizational communication skills are a must here), it's also a chance to hear back from team members about your proposed plans: they may pick up on something you've missed or overlooked.
Involving everyone has the added benefit of boosting collaboration and feelings of transparency. If you're using (highly recommended) diagramming software, such as Cacoo, take advantage of real-time commenting tools that let team members add their thoughts for all to see.
4. Start resource allocation
As per the previous step, your team should have let you know how long they need, as well as the resources they need to complete their individual jobs. Now, it's time for the project manager to start bringing this all together. Chat to managers and employees in different departments to get a full picture—not to mention get them on your side if there are processes and regulations you need to address before things start moving. Once you've worked out what goes, you need to share this information with everyone involved.
5. Create and share your implementation plan
Your plan should be clear and straightforward. Avoid jargon, obscure acronyms and inconsistent formatting. In short, do everything you can to make sure as many people as possible can understand it. Include the names of everyone who'll be involved, and list all the steps and tasks in your plan, including a timeline that indicates the beginning and end of each task. The more time you spend on this, the clearer it'll be for everyone—and the more likely people will be to follow it. And again, clear communication is a must here: explain your purpose for doing everything, and allow people to give feedback and ask questions—not just now, but during project kick-off too.
7. Monitor and improve continually
In the spirit of Kaizen, process improvement should not be considered a one-off event. To have the best chance of success, you'll need to check in regularly to make sure everyone is following the new steps. Address issues like bottlenecks and failures, and amend the plan as you go. After every improvement, monitor the results to ensure it's been a success, and to make further adjustments if necessary. The more you can collaborate on this, the smoother your process improvement will be.
Collaborate on ideas to align your team's vision in Cacoo