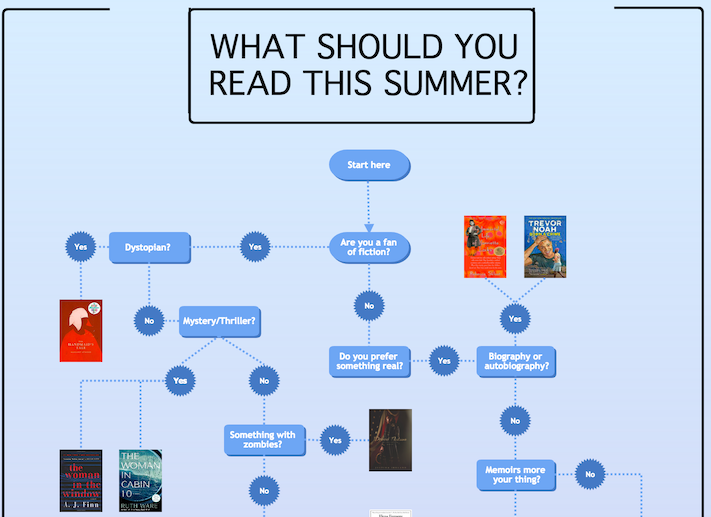 If you haven't had a chance yet to hit the beach or enjoy a lazy summer day, there is still some time to enjoy the summer heat before fall arrives. Whether you enjoy laying out in the sun, or in a hammock under some shade, one of the most popular things to do during the summertime is read. Not sure what book to pick up though? No worries- we put together a list of some of the best books people are reading right now.
Follow our flowchart which was made in Cacoo, to figure out which one is best for you. And below you'll find a breakdown of why these books are on the list!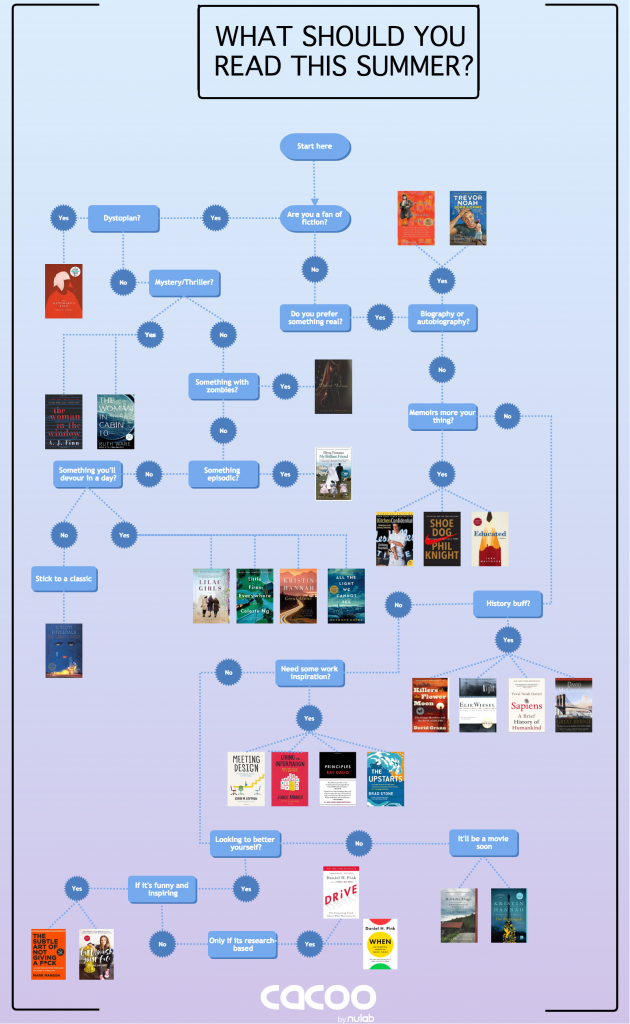 Books in Popular Fiction
Dystopian
If you liked the Hunger Games or Divergent series, then a dystopian novel might be perfect to indulge in. The Handmaid's Tale was written back in 1985, and received mixed reviews by critics back then. But now, the story of this dystopian society has become one of the most talked about stories since Hulu turned it into an award-winning TV drama. This is a great book if you appreciate stories that dig into feminism, politics, and religion.
Mystery/Thriller
It seems like every summer there's a killer book that everyone can't stop talking about. And by killer, we mean, literally books based on the Mystery/Thriller/ Suspense category. The Woman in Cabin 10 and The Woman in the Window might seem to have similar titles, but storylines couldn't be more different. We love them both for different reasons, but you can take it from us- both are hard to put down and stop thinking about well after you are done.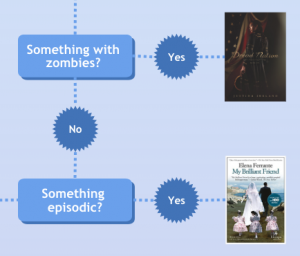 Dread Nation
How do you explain a book that has a female (of color) protagonist, civil war themes, AND zombies, all in one storyline? It's young adult, with excellent character development and one of those books that still isn't overly hyped up yet (but totally deserves to be). Dread Nation is in a category of its own. If you haven't read it yet, just do it.
Episodic
If you like a good series, then you have to read Elena Ferrante. The Italian novelist's Neopolitan series is written around the lives of two young girls growing up in Italy in the midst of a war. Starting with My Brilliant Friend, you meet the main characters as children in school. As the years go by you'll see their lives take several twists and turns throughout the series, as they experience marriage, divorce, having children, and the bittersweet relationship that makes up their friendship. If you're still unsure if it's worth the investment, check out this review.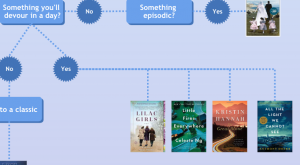 Perfect books to read in a day (or two):
When it comes to popular fiction, there's something out there for everyone, and these books tend to be a hit if you like reading something that encaptures you to the point that you will not do anything else but read from beginning to end. For that and that alone, we think these are some of the best books to grab if you want to fall deep into the lives of characters you'll be happy to cheer for, and sad to see go:
Lilac Girls, Little Fires Everywhere, All the Light We Cannot See, and The Great Alone.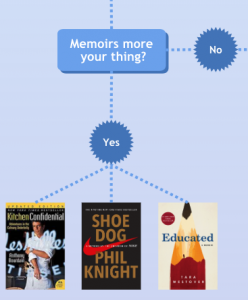 Biographies
He's loved for his comedy and hot takes on current events on his show, but who is Trevor Noah and how did we get this amazing individual to bless us with his presence on the Daily Show? Learn about Trevor Noah's life and upbringing in South Africa in his book, Trevor Noah: Born a Crime.
Another great book that's been buzzed about takes a look at the life of a woman who wasn't famous but still influential to us today. The Immortal Life of Henrietta Lacks takes a look at how race, ethics, and science collide when scientists take the cells of a poor, black woman without her ever knowing to use for developing vaccines and various studies. Her cells have helped scientists make advancements on cloning, genetic mapping, and more. But she and her family were never given the choice for this or compensation that's rightly owed to her. Read more about it here.
Memoirs
There are a lot of touching, and awe-inspiring memoirs out there right now, too. Memoirs give snippets into a person's life based on the stories they're willing to share. Kitchen Confidential is great to dig into, in memory of Anthony Bourdain's fest for food, life, and raw honesty. Educated is the heart-wrenching life story of a girl who leaves her religious upbringing, that kept her from school, to go onto pursuing a Ph.D. for herself. And lastly, Shoe Dog peers into the success of the creator of Nike and is an inspiring memoir that shows how hard it is to make a lasting brand in this world.
An American Classic
If all else fails in our fiction flowchart, we give you the only option that makes sense to resort to: a classic. And to us, if you're trading the hustle and heat in New York City for the beach and sun somewhere like the Hamptons, we can't think of anything better to bring with you than The Great Gatsby. An American classic that you can enjoy in the exact setting it was written about.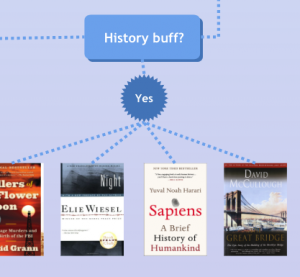 History
Whether it's learning how the Brooklyn Bridge was made (aka The Great Bridge ), or what it was like for immigrants coming to America in the last century, a good history book will help you see how far we've come and just how much we can learn from the past. Take Elie Wiesel's classic, Night, if you want to learn about the holocaust's grave results on humanity, or Killers of the Flower Moon if you're interested in knowing more about people's immigration stories. Or if you're fascinated by how far we've come, as a species, then check out Sapiens.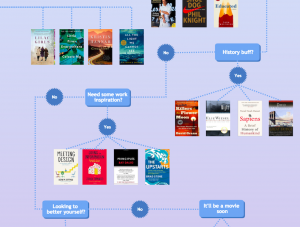 Work Inspiration
For those who want to better themselves with a work-life balance but also want to use their free time to learn something that can improve their career, there are several great books out there related to careers in design, technology, and the start-up world. Living in Information and Meeting Design are two great books every graphic designer, product manager, or just someone involved in creative design can enjoy. The Upstarts is a great book if you're new to the startup world, and would like to understand how some of the bigger startups like Uber and Airbnb made their success. Lastly, investor and business expert, Ray Dalio shares his experience and insights in the book Principles.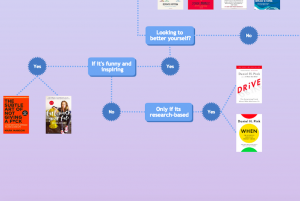 Personal Improvement
Two books to check out in the Personal Improvement genre are The Subtle Art of Not Giving a Fuck or Girl, Wash Your Face, for their funny banter, motivational quotes, and downright practical advice. But if you want to dive into something deeper, or appreciate learning the science behind certain decisions we make, we recommend checking out When: The Scientific Secrets of Perfect Timing and Drive: The Surprising Truth About What Motivates Us.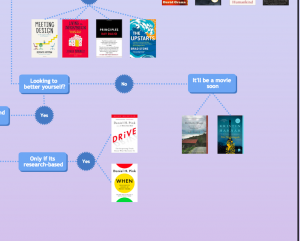 Soon to be movies
If you're one of those, "I can't watch the movie till I read the book,' then our last two recommendations are for you. In the midst of a troubling political climate in the United States, Hillbilly Elegy brings a perspective into light that many have not seen or heard. Learning about life for those in rural America, Hillbilly Elegy tells a story that's humbling and eye-opening for many who have not understood the problems happening in rural America.
On a lighter note, The Nightingale written by the best-seller Kristin Hannah, was a major hit last year when it debuted on the New York Times bestseller list and caught everyone's attention. It's now predicted to be a box office hit as well.
Ready to visualize your ideas?
Flowcharts are an easy and fun way to take any idea you've dreamed up and bring it to a visual board. With Cacoo, you can take any projects or thought processes and lay them out for your whole team to see. Whether it's brainstorming your next task with mind mapping, designing layouts for your new landing page with wireframes, or organizing a project by tasks with a flowchart, Cacoo is the perfect tool to use for every team.
Or you can just create more fun flowcharts like this one!
Collaborate on ideas to align your team's vision in Cacoo