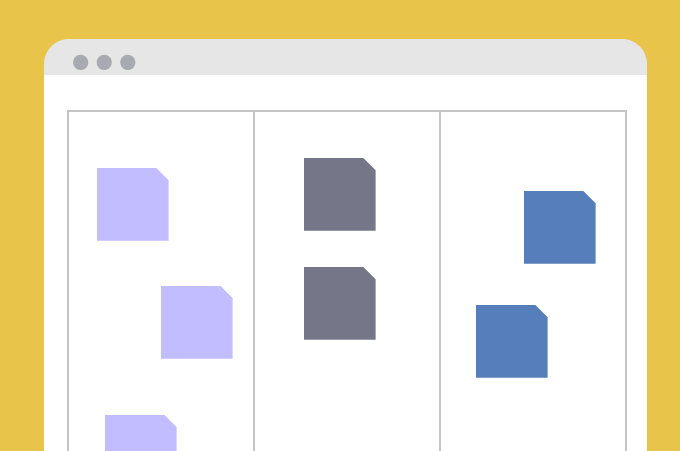 The end of something is never really just an ending — it's the beginning of something new. Whether you've just finished another sprint, a full project, an eventful quarter, or just another week on the job, your team can conduct a retrospective to improve processes as often as you see fit. A great way to do this is with the Start Stop Continue retrospective. Simple and conduct and quick to work through — it's perfect for any team.
We'll take it a step further and make it even easier: Cacoo provides a simple template to easily run this retrospective meeting from a distance. With no experience, you can easily conduct this meeting with your team no matter where you are. Let's dive in!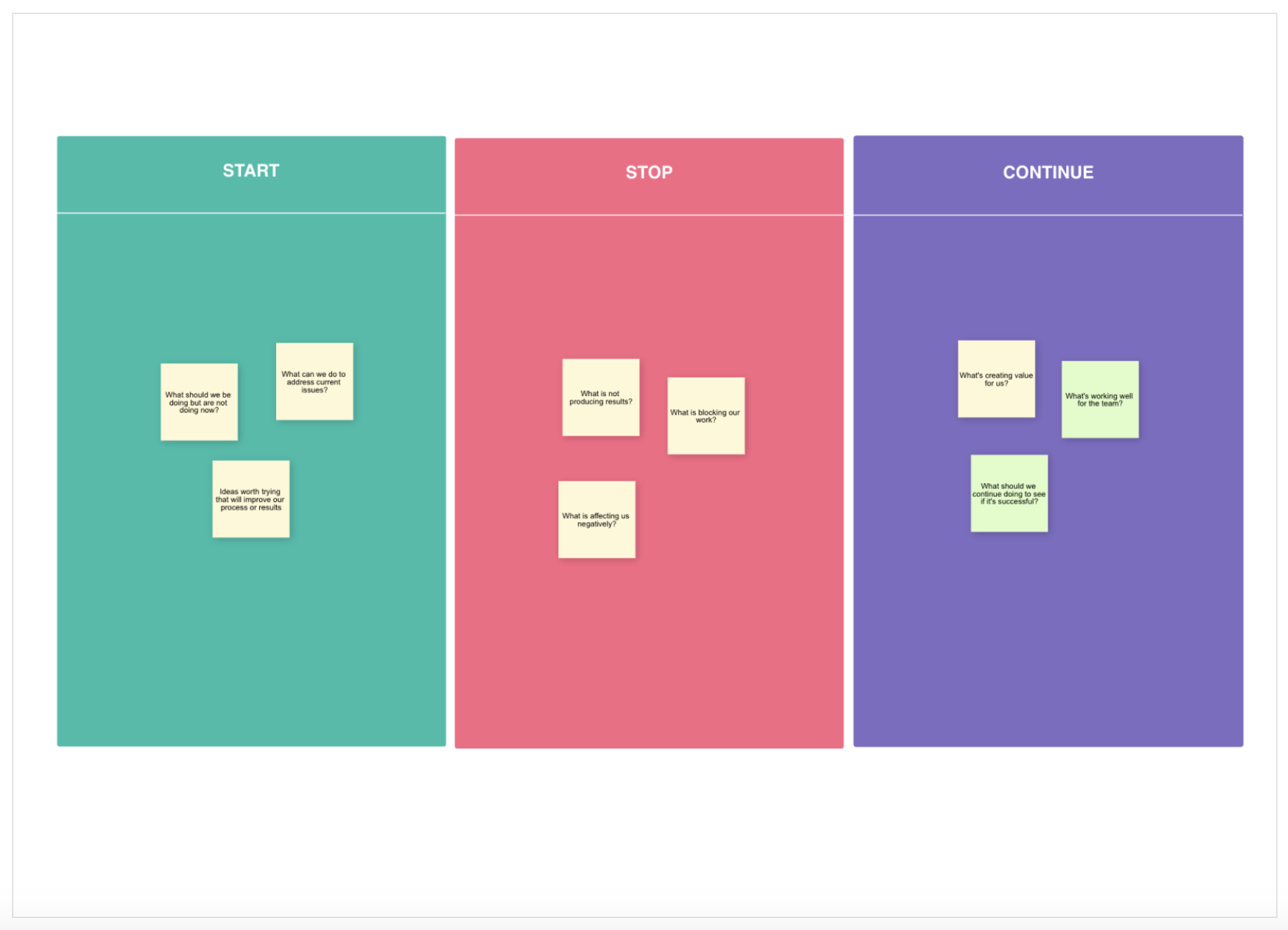 What is Start Stop Continue?
The Start Stop Continue retrospective is an extremely simple process for your team to both to learn and run. If you're already familiar with the Keep, Problem, Try retrospective, a lot of this process might sound similar to you.
Start Stop Continue consists of three main parts (you guessed it!): start, stop, and continue. 
Start
It may seem self-explanatory, but the 'Start' portion of the retrospective is a list of things the team doesn't currently do but could start doing. This step brings together ideas the team has that might be beneficial to add to the process. If there are any extra steps, processes, or software that could be added to make a project go smoother, this is where you would write those in. It's possible that some of your team members have actually had ideas of things to start doing for a while but never knew when or how to suggest them. Here's everyone's chance! 
Stop
The 'Stop' step is the exact opposite. Your team members should ask themselves what parts of the process are specifically not working or are slowing down the overall progress. Maybe there's a software that continuously doesn't work, a step you go through in the process that takes up extra time without ever showing any results, or a level of approval that seems unnecessary. Although focusing on the negative is often the opposite of beneficial, it's likely that there are some things about the process that your team members have issues with for some reason or another. This is the time to start hashing those things out and finding the why.
Continue
'Continue' is usually the easiest step of the process. Simply look at the project and see what worked. What went off without a hitch. Those are things you should continue to do in all your future projects to keep getting good results. This step might not seem important because there isn't as much critical thinking, research, or discussion involved. However, it's just as necessary to see and keep the things that are going right with your projects as it is to recognize and change the things that are hindering your success. 
How to run each step
Each step of the Start Stop Continue retrospective should consist of four functions:
Brainstorm

Group together

Vote

Share
Brainstorming
After you've set up a meeting time for your team, make sure you give them advanced notice to start brainstorming. Depending on when you set up the meeting, this could give them a few days to start thinking and preparing. At the very least, make sure everyone has half an hour or so to start reminiscing. 
Each team member should have at least a few items to place under each category — whether that's written down on sticky notes, typed up in a document, or added to your team's online whiteboard tool. Encourage the team to ask themselves what went well with the last project? Can you think of any ways to improve upon it? What could have gone better and why?
Grouping together
After everyone has brainstormed, take the time to share what each team member came up with. You can do this as a full discussion, or have everyone fill out their ideas in real-time on the Cacoo template. You can then discuss as a team.
Either way, once all of the ideas and suggestions are filled in, go through all of the items as a team and figure out which notes are the same, similar, or could benefit from the same action. If the same item appears a lot, you can delete the repetitions. But take note that that problem or action is clearly important, as it stuck out to multiple team members.
Voting
Think of the meeting as a democracy, but instead of having a single winner, the results will function more according to a proportional vote. 
You can either provide unlimited votes or a specific amount of votes (say, five) to each team member to spread throughout the items listed in each category. The team will then vote by adding a mark to an item, or you can simply go through the items one by one and see how many votes each garners. 
Doing this allows you to easily choose which items to discuss or integrate into your process based on importance. You could, possibly, end up with over a hundred suggestions, you can't possibly implement them all at once, so finding the most possible suggestions will help you get on the right path with your first few Start Stop Continue retrospectives.
Sharing
After the meeting, take all of your meeting minutes and notes on which items the team has selected to take action on and share it with the team as soon as possible. Taking quick action should not only keep everything fresh in everyone's minds but will make sure you can start working with the suggestions in your day to day work as soon as possible. The sooner you start improving your processes, the more work you can do to continue to better your processes with each completion and retrospective. 
Final thoughts
Although the Start Stop Continue retrospective is pretty straightforward, there is still some room to customize it to work best for your team. Maybe it makes the most sense to start with the 'Continue' step, then move to 'Start' or "Stop,' or some other order. Maybe you have a way of voting that works better, etc. 
One of the great things about this process being so simple is that it does allow for this customization as well as the time and clarity to host meaningful conversion without extra rules bogging down the process. You can also check out some of the other retrospective templates that Cacoo offers to see what works best for your team. Plus, find a quick guide to six types of retrospectives to learn more and help decide which option will be right for your team.
After your next project, try the Start Stop Continue method and see the difference it makes going forward!
Collaborate on ideas to align your team's vision in Cacoo