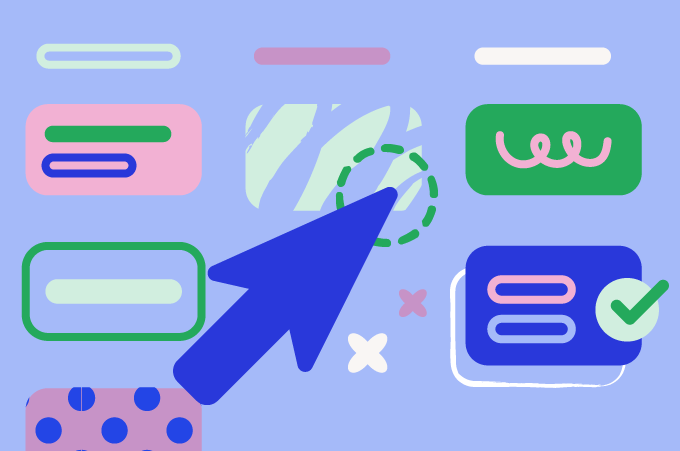 Everyone needs a little encouragement to get to the end of a project — and that's exactly what a scrum board does. It's like your coach, your cheerleader, and your teammate, all wrapped up in one. And who doesn't want this kind of support during a project? No one, that's who.
First things first: Scrum — or, the scrum framework of project management — is built on four types of meetings, which together, make up Agile. Here they are:
Sprint planning
Daily stand-ups
Sprint reviews
Sprint retrospectives
Although most famously used in software development, Agile remains enduringly popular today. It's increasingly being adopted across all kinds of other industries simply because it's an incredibly helpful process that just works.
What is Agile, and where does Scrum fit in?
Agile began in the '00s with the Agile Manifesto, a collection of principles for software development. And Scrum is the framework that helps teams put these principles into action.
Agile = a way of working
Scrum = the instructions for achieving this
While both take their bearings from software development, they can be applied to literally any work situation, so don't let the techy beginnings put you off. From marketing to manufacturing, scrum can help you — so long as you have a concrete product as your output.
What is a scrum board?
Before we dive into what a scrum board is, we need to talk about scrum teams, and how they work.
Scrum Teams consist of the product owner, the scrum master — and the team themselves. Every one to four weeks, the scrum team tackles another part of their workflow (known as the backlog). These short bursts of concentrated work are what's known as sprints. Each day, the team does a daily standup, and after the project's complete, the scrum master will hold a sprint retrospective.
Scrum boards are a visual representation of your sprints in action.
Scrum is an iterative way of working that focuses on breaking down big projects into small, manageable sprints, with an emphasis on communication and teamwork — and the scrum board embodies this. This board sits at the center of everything the team does. It shows how far along they are in the sprint, as well as the overall project.
P.S. — take a look at our Scrum and Agile guide for the full walkthrough.
What does a scrum board look like?
A scrum board has three columns, marked 'to do,' 'in progress/doing', and 'done.' Seeing your work presented visually like this works wonders for planning: It shows you how far you've come, and how far you have to go. It also helps you work out what needs to be done next (a big help for those who struggle with analysis paralysis).
In terms of format, the scrum board can be a physical thing, like a whiteboard covered in pen or sticky notes — or it can be digital. Let's take a closer look at the pros and cons of each.
Physical scrum boards vs online scrum boards: Which is better?
Everyone has preferences, and there's no right or wrong answer. Let's delve into the details to help you decide.
The advantages of a physical scrum board
You can give it a starring role in your daily standup and gather round it each morning…
It's a constant visual reminder (for teams that all work in the same room). Putting it in a prominent place keeps it in everyone's mind and helps the team focus.
It can be customized. Different colors, images, icons — go wild! You can also rearrange the workboard after every sprint.
The disadvantages of a physical scrum board
Lots of sticky notes and hand-written instructions can be messy and confusing.
It doesn't work so well if the team is spread out across different rooms, floors, offices, or continents.
It's harder to update, and space is limited when it comes to adding extra detail.
The advantages of a digital scrum board
It works much more effectively for remote teams, who can log in from wherever they are and see the board in all its glory. And even if your team is all in the same building, it saves getting up and wandering over to another room or floor.
It can be customized as much — if not more so — than a physical scrum board. With your diagramming tool, change colors, shapes, diagram formats and add filters to your view. This level of customization means everyone on the team can view the information in a way they find easy to process.
Real-time notifications can be a real time-saver, especially for managers: No more status updates and task progress emails. Automatic reports can also be a real help, especially since scrum teams need to be able to evaluate their performance.
You're not limited by physical space, which makes it easier to add burndown charts, as well as create boards for long-term projects. Scroll and hop between sprints with ease…
Digital scrum boards can be shared at the click of a button. And, if you're using. something cloud-based (highly recommended), then team members, supervisors, and team leaders can log in and access information and reports, from wherever they are in the world.
The disadvantages of a digital scrum board
You'll need to invest time into getting the team used to the software (though picking something easy to use will minimize this).
Software has an initial upfront cost, or monthly fee. Then again, the cost of sticky notes and whiteboard pens can add up, so you may find you break even or save after all.
How to make your scrum board work hard
You've got your three columns, but why stop there? Whether you're working digitally, or plastering a whiteboard with sticky notes, there are more details you can add for extra understanding.
Add extra detail: For example, 'done' means different things to different teams. Define exactly what each thing means (and add extra sub-columns if necessary) for greater clarity.
Add a burndown chart: A burndown chart is a graph showing the work that's left to do, as well as how long you have to do it. It can apply to the project as a whole, or you can have one per sprint. It'll also show how fast the team is making its way through the work.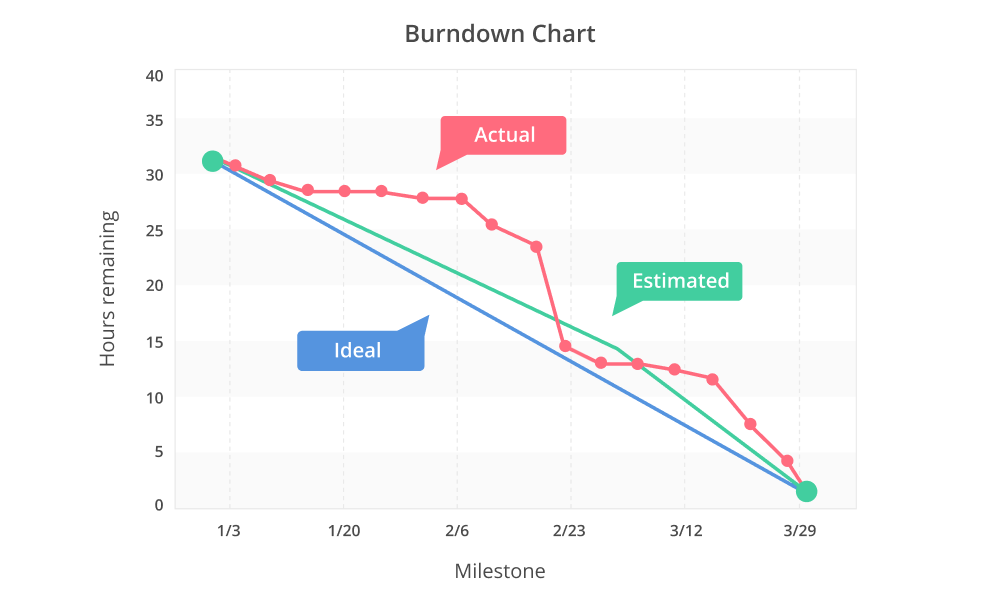 Add retrospective notes: Retrospectives are held after each sprint. The goal is to find ways to improve on the last one. Take notes and add them to the next sprint (either pinned to the board or added as comments on a digital board) so everyone can see them as a reminder.
Final thoughts
Scrum boards are so simple, yet so effective when it comes to organizing a project. After using one once, we promise you'll be hooked.
If your team's small and located in one room, then a whiteboard is fine. But for epic projects, bigger teams, organizations with remote workers — or just project managers who prefer to keep things digital— an online scrum board is the only real choice.
Automatic updates, real-time dashboards, and the anywhere, anytime accessibility removes boundaries and boosts team collaboration. And, with Cacoo, our own diagramming tool, the Scrum Master can create the board, then present ideas and get live feedback during daily standups, making the whole process more immediate — not to mention collaborative.
Collaborate on ideas to align your team's vision in Cacoo