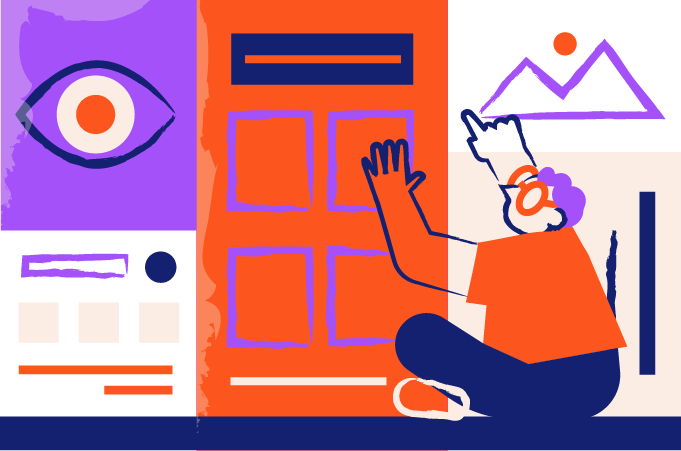 The role of 'designer' has evolved drastically over the past 10-20 years, and what was once a straightforward job description ('make things look nice') — has since branched off into several distinct specialisms, each with their own unique skill sets.
You'd be forgiven for feeling confused: all theses roles sound slightly similar, and there is overlap between each one. So whether you're hiring a new team member, choosing a new career, or you're simply wondering why your designer colleague rolled their eyes when you asked them to make a logo: you've come to the right place. Here's what they all do.
What does a graphic designer do?
This is the oldest type of design job on the list. It was around before Macs hit the scene, and pretty much everyone knows what they do: they make things look good. Here's what falls under their remit:
Images
Typography
Layout
Colors
Until the advent of the computer, graphic designers worked with paper and ink, and traditionally they covered print media (brochures, posters, business cards, and the like). Then, when print moved into the digital realm, they progressed onto computers. There, they created work for all of the above, plus digital assets like logos and icons for websites and apps.
This is when the role became blurred with that of a web designer.
What does a web designer do?
Web designers are graphic designers, but only for digital things. Most graphic designers are also web designers (because it means more opportunities professionally) — but not all.
Web designers often don't need to know how to code — a skill usually left to front end web developers. That said, many are now learning this skill because it sets them apart from the competition.
Their tools of the trade include Photoshop, Adobe Illustrator, and InDesign. Here's what falls under their remit:
Website images
Website typography
Website layout
Website colors
What do a UI and a UX designer do?
Graphic designers and web designers are responsible for the look of something. User Experience (UX) and User Interface (UI) designers cover both the look and the feel of something.
When we say the 'feel', what we mean is the experience the user has while using it; i.e., the way different elements on the page interact with each other, and the way the user makes their way through the website.
They work solely on digital, and cover the following:
Website/app images
Website/app typography
Website/app layout
Website/app colors
App icons
Alongside having a good design eye, plus a knowledge of how to use Photoshop, InDesign, and Illustrator, they also need the ability to use wireframing software and often be able to code using CSS, HTML, and JavaScript.
So what's the difference between a UX designer and a UI designer?
These are two similar roles, but with a few key differences. A UX designer is a site architect. They focus on the big picture, aka the overall site mechanics. The UI designer, on the other hand, looks at the smaller details.
So if you think about a typical user journey through an eCommerce site, a UX designer will map the route the user would take, from browsing and favoriting items, all the way through to checkout. The UX designer will ask themselves the following questions:
Is this functional?
What are the steps this user will follow?
How will the user know if they've been successful?
Is it easy for them to achieve their goals?
The design (sometimes represented as a wireframe at this stage) then moves over to the UI designer, who will refine that interaction by tweaking colors, shapes, and layout to make it clearer and more pleasant for the user. They'll ask themselves the following questions:
Is this user's journey easy and enjoyable?
Is it aesthetically pleasing?
Is it building an emotional connection with the user?
Is it consistent with the overall brand?
As with all of these roles, there's some overlap, and in many companies — especially smaller ones — you may find the UX designer also does UI.
What does a visual designer do?
The visual designer role is an overarching mixture of all of the above. It's their job to use their skills to bring a brand to life — across web, mobile, and sometimes print.
They're more conceptual in their way of working — so rather than just designing a logo or picking colors, they are able to explain their ideas behind it, and why it embodies the brand's personality. As such, they need to have good communication skills, because their job often involves presenting concepts to clients.
Visual designers need to understand graphic design UX, UI, and web design. They use the same tools as graphic designers (Photoshop, InDesign, and Illustrator), but they also know how to use wireframe software. Many know how to code too — although it's seen as more of a string to their bow rather than a job requirement. They cover the following areas:
Images
Typography
Layout
Colors
Icons
Branding
Visual messaging
Which designer role is right for you?
If you're considering a career in design, the first thing to remember is this: the more skills you have, the better. That doesn't mean you need to be a generalist — you can always specialize in a specific element of the design process, but if you know color theory, typography, and coding, then you'll be more competitive than someone who just knows print, for example.
As well as making sure you have plenty of skills under your belt, you should also acquaint yourself with the tools of the trade: learn Photoshop, InDesign, and Illustrator. Learn how to use wireframing software, and if you can, basic HTML, CSS, and Javascript coding. Once you have those mastered, you'll be irresistible to employers.
If you're considering hiring a designer for your team, think about the kind of work you'll be doing.
If you're a company who works solely in print, then a traditional graphic designer will do the trick. If you're an app or web-based company, then you'll want a web designer, plus a UX and UI designer (or someone who is skilled in all three specialties). If you're offering branding services, you'll want a visual designer and potentially a web, UX and UI designer to help you complete the work.
Alternatively, you can upskill the staff you have. If you already have a graphic or web designer you'd like to teach UX and UI design to, invest in good-quality, intuitive visual design tools that they'll be able to pick up without too much effort, and consider sending them on a coding training course especially for designers. That way, you'll fill your business with experts without going through the hiring process — while they'll feel more engaged and motivated to do their best.
Collaborate on ideas to align your team's vision in Cacoo