Part 2: Creating Flowcharts
Flowcharts Guide
Flowchart objects & symbols
When creating a flowchart, there are a few basic symbols used to denote processes, decisions, documents, manual operations, and more. Uniform symbols make your flowchart more meaningful and easier to read. The below image shows the standard flowchart symbols available in Cacoo.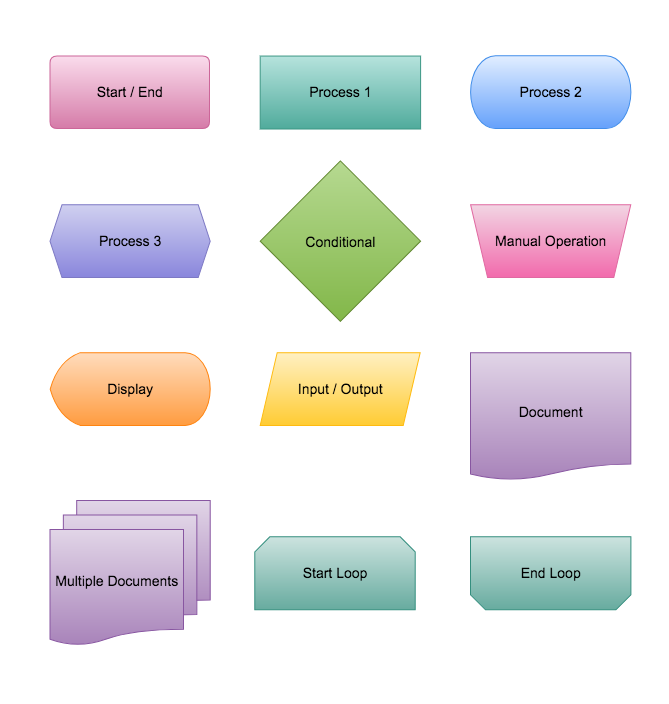 These shapes and meanings are fairly standard; however, some people do incorporate different shapes with different meanings into their flowcharts. You can add shapes, define specialized meanings, and tailor your flowchart symbols to your needs.
Here is a rundown of the most common shapes and their meanings.
Start/End
Sometimes also referred to as a "terminator," the Start/End symbol is used to show where your flow begins or ends. Within the shape, you should include the words "Start" or "End" to clarify which it is.
Process 1
The most common shape for a process is the rectangle. It can signify any process, action, or operation in your flow. They are usually defined by their action, like "Edit blog," "Create an account," or "Select plan."
Process 2
Another shape used for processes is the rounded rectangle. This is used to represent an event that occurs automatically such an event will trigger a subsequent action, like "receive telephone call" or describe a new state of affairs.
Process 3
Also called the "Preparation Symbol," the Process 3 symbol represents a setup to another step in the process.
Conditional
The diamond Conditional shape is also often called the "Decision" shape. This object is always used symbolize a question. The answer to that question determines which arrow to follow coming out of the diamond. There are usually at least two arrows coming from this shape; one indicating Yes or True, and the other No or False. Arrows are labeled to avoid confusion.
Manual Operation
This object represents actions where a user is prompted for information that must be manually inputted into a system.
Display
The Display symbol indicates a step that displays information.
Input/Output
Also referred to as the "data" object or the "I/O" shape, this Input/Output symbol refers to any information the goes into or comes out of your flow.
Document
This shape is pretty straightforward: it represents any document or report that takes part in the process flow.
Multiple Documents
Similar to the Document shape, the Multiple Document shape simply clarifies that there are multiple documents involved in a single step.
Start Loop
This shape indicates the beginning of a loop.
End Loop
Conversely, this shape indicates the point at which a loop should stop.
How to create a flowchart
Once you understand the meaning of each symbol, putting together a flowchart is surprisingly easy. Gather all relevant information, build out each step of your flow piece by piece, and label your steps accordingly.
A successful flowchart will convey the information presented in an organized and efficient manner.
Follow these steps to create your own.
Select your tool
While you may start out taking notes with a pen a paper, eventually you'll want a diagramming tool to help you quickly draw out your flow in a way that is easy to understand and professional looking.
Our cloud-based diagramming tool Cacoo has everything you need to make beautiful flowcharts. Plus, you can try it out for free with our limited free account that comes with six sheets, limited sharing capabilities, and a PNG export option.
If you fall in love, our paid plans provide more sheets, sharing options, import/export options, revision history tools, and more. If you're working on a team, you'll love the collaborative features available on our Cacoo Teams plan, including shared Project folders, simultaneous editing, commenting, and team management controls.
List your process steps
Once you've selected your tool, it's time to start listing out each step in your flow one by one.
If you're unsure of how certain pieces fit together at first, put them off to the side of your main diagram; incorporate them later.
Once you've listed out every step on your screen, note what's missing.
What parts of your flow don't connect?
Where does your flow trail off?
Does your flow have a defined beginning, middle, and end?
What needs to happen for your process to proceed?
What decisions need to be made along the way to make the flow happen?
Add symbols & shapes
Each step you've listed can be represented by a particular shape based on the symbols we listed earlier, which are all available in Cacoo.
For each step of your flow, make sure it's symbolized by the correct shape. You can drag and drop any shape in Cacoo right onto your canvas in the Cacoo Editor. Double-click the shape to add text. You can copy/paste any action items you've already listed into the correct shape.
Begin with the Start/End symbols. Then add your Process and Conditional symbols, followed by connecting arrows giving direction to your flow. Add in more specialized shapes after to polish off your diagram.
Optimize your flow
Once you've come up with a comprehensive first draft of how things work currently, you can begin to analyze any bottlenecks, duplicate efforts, or unaccounted pieces.
Work with members of your team and others to optimize your flow for greatest efficiency. You may need to add or remove steps. Perhaps there's a better order of actions for your flow. Play around with different versions of your flowchart until you're happy with the result.
Ask someone to review your work
The simplest way to verify that your flowchart is easy to read is to ask a fresh pair of eyes to walk you through what they see the flow to be. If they get caught up in a particular step or section of steps, you may need to rework your diagram.
Flowchart Templates and Examples
While drawing flowcharts from scratch is easy with Cacoo, using templates can greatly speed up your diagramming process.
There are many different types of flowchart templates to choose from in Cacoo. Simply open the editor, choose a template to get you started, and begin customizing it to your flow.
If you come up with a diagram you think you'll want to replicate, save it as a new template or stencil. With custom templates and stencils, you can recreate your best work again and again.
Additional Cacoo Resources: