Part 2: Creating Mind Maps
Mind Maps Guide
How to make a mindmap
All you need to get started with a mind map is a central idea. From there, connected concepts, thoughts, and questions can freely radiate out.
When you're ready to give it a try, log in to your Cacoo account and open up the Editor. If you don't have an account, you can sign up for a free trial here.
Then, follow along with these steps:
Select a template or blank canvas. The template library will pop up automatically when you open the Cacoo Editor. You can either select a relevant mind map template to get you started, or create your work from scratch with a blank canvas.
Add your central idea. Everything you create in your mind map will somehow connect back to your central idea, so plop down a shape with a word or phrase that represents that idea right in the middle of your canvas, or use the shape already available in the mind map template you selected in step 1.
Add your first layer of subtopics. The subtopics radiating directly from your central idea will probably be broad. Maybe you want to set up a simple series of questions like "who, what, where, when, why"—you can choose whichever terms you think best suit the goal of your mind mapping session. Continue to branch off those subtopics, getting more specific as you get further from your central idea. Each new layer of branching should dig deeper into that specific area of your central idea.
Keep adding new connections. Use lines between shapes to show how they are connected. Some ideas may have only one connector leading to it or coming out it. Other shapes may have multiple in either direction. You can move the existing lines if you initially chose a template or select the "New line" icon in your top menu to create and style your lines. Adjust line styles with the inspector tool. Tip: Use Alt+Drag to clone and move a shape or line. That way, they don't have to bother with formatting the lines/shapes every time!
Move your shapes around. As new ideas spring up, you may decide to move things around to pair closely-related ideas closer together or just make room for a more robust branch of your mind map. You can also move shapes around to inspire new ways of thinking about your central idea. Sometimes, just seeing two ideas together that you normally wouldn't associate can create inspiration.
Add pictures or illustrations, if you'd like You can paste an image from the clipboard with standard shortcut keys (Windows – [Ctrl]+[V] / Mac – [command]+[V]). You can also insert a screenshot, or use one of our integrations with several file storage apps like Box, Dropbox, and Adobe Creative Cloud to insert your own images.
Clean up your formatting. If you're going to come back to your mind map again and again to study it or potentially show it to other people, it's a good idea to make sure you're using uniform shape sizes, texts, colors, etc. across your map. Try using a different color for each idea level to create a visual hierarchy. You can do the same with font sizes and line thickness. Play around until you like how it looks!
Save your diagram & share it! Select the "Save Diagram" button at the top of the Editor to name and save your diagram. The "Export" and "Property" buttons will provide you with various options for sharing your diagram including exporting as a PDF or SVG, sharing on social media (Twitter, Google+, Facebook), or sharing with a link. You can also embed your diagram on a website.
By the end, you'll have a great mind map you can use to study or present to a team member, boss, or client.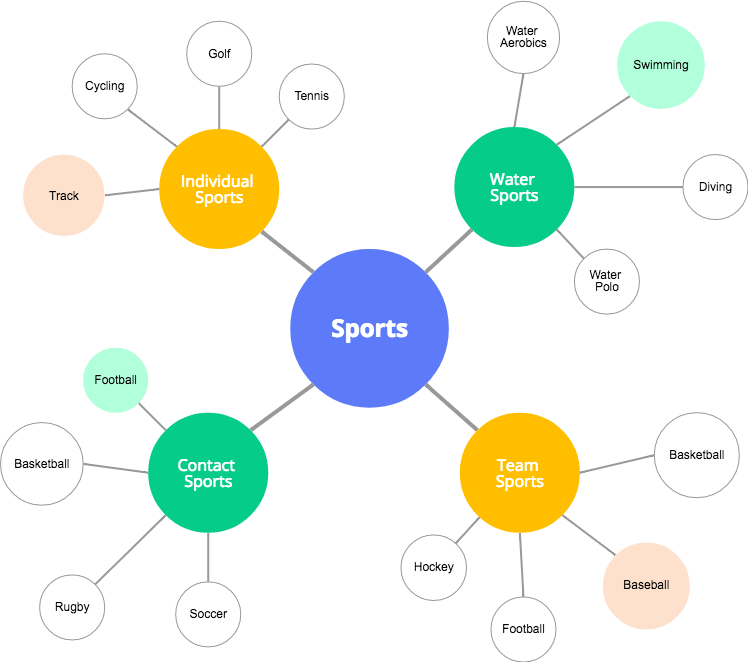 Mind map example #1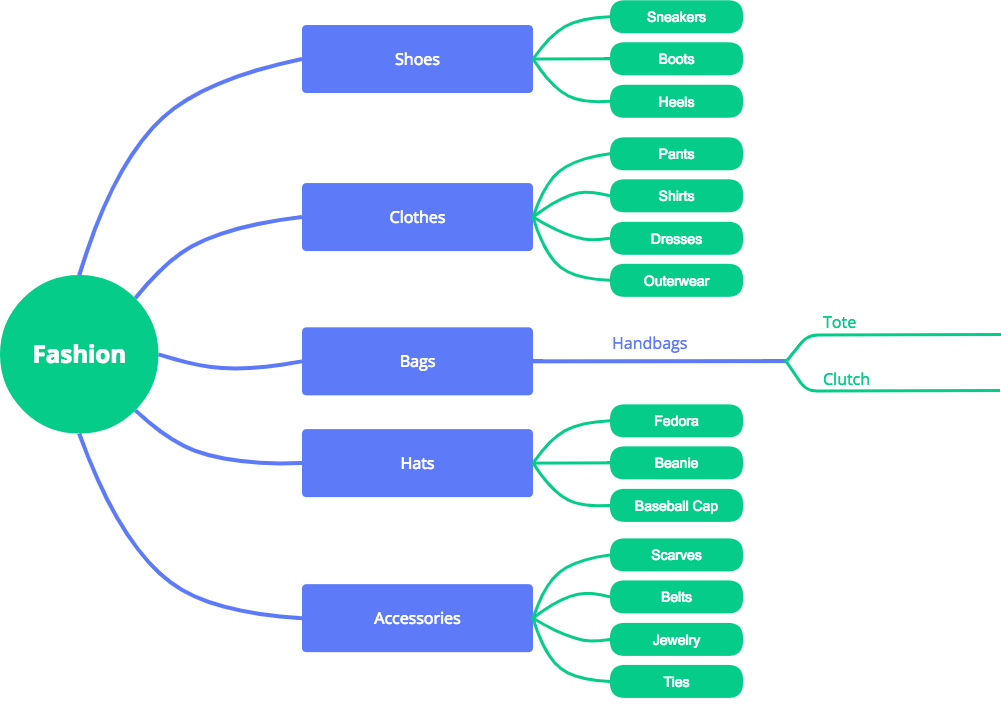 Mind map example #2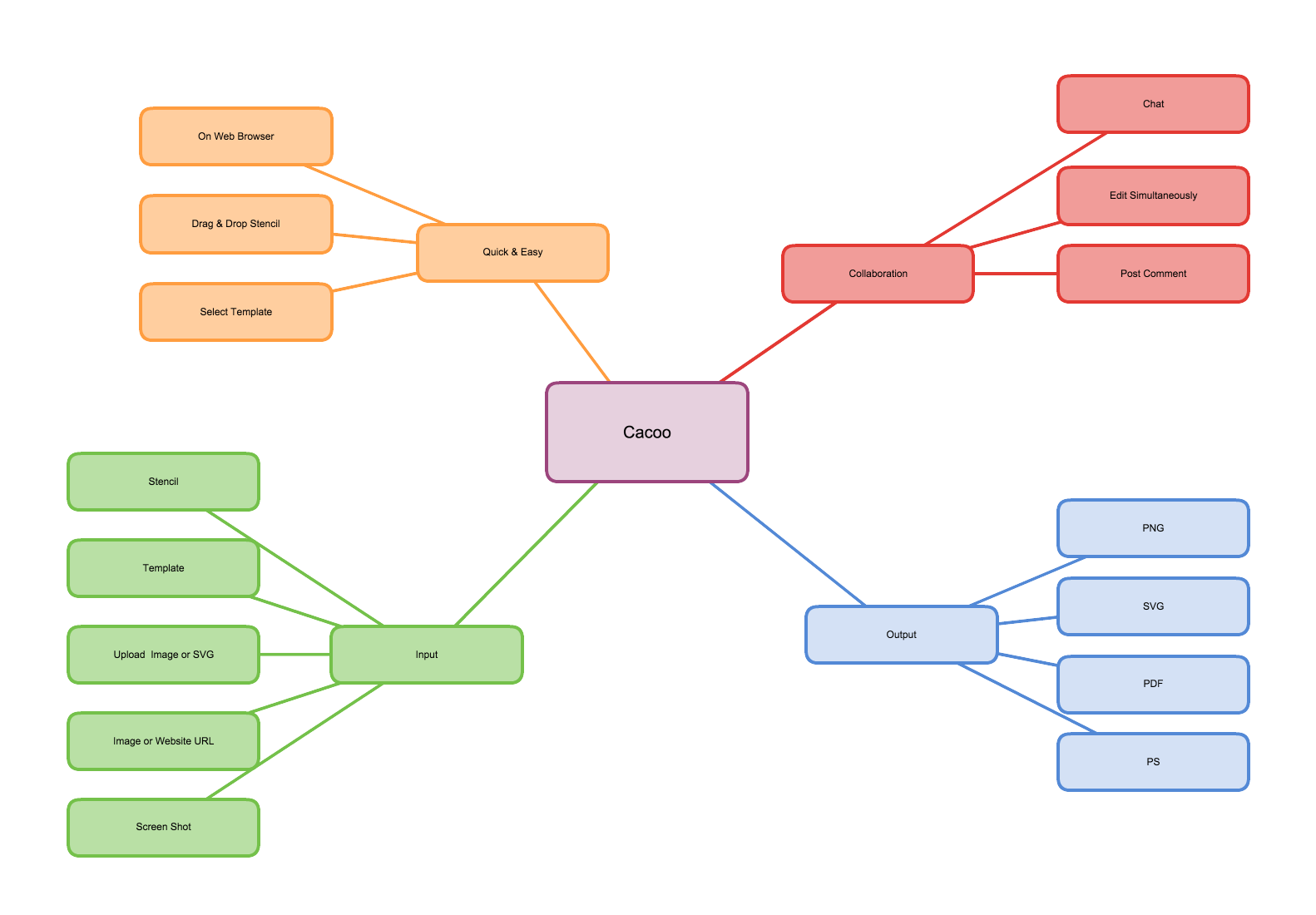 Mind map example #3
Custom mind map templates and shapes
While creating mind maps from scratch is easy with Cacoo, using templates can greatly speed up your diagramming process.
There are many different types of mind map templates to choose from in Cacoo. Simply open the Editor, choose a template to get you started, and begin customizing it to your liking.
If you create a diagram you think you'll want to reuse, save it as a new template or stencil. With custom templates and stencils, you can recreate your best work again and again.
Additional Cacoo Resources: